Stephen Voss – Neodigital Versicherung AG
Spøtlight : 6 min read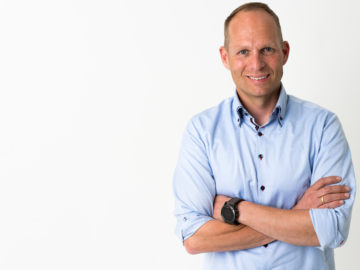 This week we interview Stephen Voss, Co-Founder of Neodigital Versicherung AG, a digital P&C insurtech. Read on to find out more about what the company has been up to since their funding round last year, their rapidly growing customer base, and how Neodigital incorporates sustainability into its masterplan.

Hi Stephen, could you tell us a little about yourself and your career leading up to the launch of Neodigital?
Born in 1974 I am a kid of the eighties and early nineties right when the digital technology emerged from restricted industry applications to the open consumer world with the likes of Comodore C64, Atari ST and Apple McIntosh's. So being raised in an era of computers and data technology this always played a major role in my life: as a child playing computer games, as a teenager participating in LAN-Parties and later as a student for economics. During my entire insurance career, it was obvious that data processing will become significantly more important. I was always faced with lengthy analogue manual processes and my ambition was to make it faster and more efficient by using technology. That became the major theme when Dirk and I decided to start Neodigital in 2017.

Introduce us to Neodigital and its vision in your own words.
Neodigital is a fully digital automated insurance factory. Our vision was and still is to digitise almost every aspect of the insurance value chain for the benefit of the customer as the product will become better and come at a lower price combined with a faster and more transparent service. We see ourselves as leaders in insurance technology making the insurance cover as easy and transparent as buying new shoes in an online store.

Neodigital prides itself in being sustainable as well as innovative – how do you prioritise sustainability within the company?
First of all, starting from scratch gave us a great opportunity. Since our vision was to create the perfect process, we incorporated every aspect of insurance in the design of our digital insurance platform. Every part of the value chain had to be digital. Sustainability naturally became and is a key part of this masterplan. Therefore, it was clear from the beginning that we will avoid recurring manual processes that require time and resources at all costs. Meaning that we sat together with all departments, from product design to IT over to customer service and claims management right from the beginning and intensively discussed how we can save time and resources to make the whole insurance product lighter, faster and more environmentally friendly – which also increases customer satisfaction. It all leads to less consumption:
Digital policies won't require paper.
Digital product description and communication won't require personal consultation – meaning less travel for customers and intermediaries.
Digital processes won't require masses of employees, meaning less office space, less travel, less time.

Last year Neodigital raised a double-digit million Euro funding round. What projects have you been putting the funding towards?
Who would have guessed? Technology! We've further increased and invested in our talents with focus on IT technology. Since mid 2020 we have successfully developed a technology platform for automotive insurance using state of the art telematics and big data to revolutionise motor insurance. Key part of it is to let the customer benefit from their positive driving behaviours. Easy and transparent with a modern app that encourages the customer to be better and save money. With the very nice side effect, coming back to our sustainability subject, that a more cautious driving behaviour will not only save money, it will also save resources since cautious drivers are travelling less fast, won't accelerate or brake hard which leads to a significantly improved fuel economy.

How did Covid-19 affect your business?
As we have been working since the beginning in 2017 in a flexible digital environment welcoming working from home right from the start, we had no transition time at all to accommodate the lockdowns. The necessary technology and management tools were already in place. So working as such did not change, what changed significantly to our benefit was customer behaviour. Covid-19 created a high demand from customers towards digital services for product application and service. All of which we could deliver. By June 2020 we had doubled our customer base in less than a year from 100.000 to 200.000 and with the still increasing market share of digital insurance platforms we are now approaching 350.000 customers just 4 years after receiving the initial insurance licence in 2018.

That's great customer growth! How do you differentiate yourself from others in the market?
We focus very much on best product quality for price in a fully digital wrapper. This combined with our leading API technology gives us the opportunity to roll out products incredibly fast over various distribution channels, from insurance platforms to comparison engines to broker pricing tools and so on. In a nutshell we established API's to all digital tools being used by the industry, by brokers and by end consumers.

What are your plans for the next 12-months? Any key targets or milestones?
We are now looking forward to roll-out motor insurance including telematics in the coming months. Also we will be issuing legal insurance soon plus, which is one of my favourite personal projects, animal health insurance. We have seen tremendous growth in the animal sector over the past 18 months. And as the proud owner of two dogs (Tristan and Apollo – Australian Shepherds) I personally clearly see the benefit of a proper animal insurance too…
We have also recently started with our product offering outside Germany in the Austrian market. Additional markets are being considered.

What do you think your market will look like in 10 years? What are the coming opportunities and threats?
Our prediction for the future will be that we will see a great reduction in insurance carriers in the German market. There are almost 200 P&C insurers the majority of which have not managed to transition their business models in the digital age. So only the strong, and hopefully the clever, will survive. We see great opportunity for us as in the future the insurance as such will become more and more a normal commodity, so customers will look to solving their insurance needs, they will less look for a certain brand. With embedded insurance coming around the corner, the brand will become less important, but the technology behind it to support a smooth customer journey will be key for these new models. That's where we will put much effort into development to stay ahead of the market.

Finally, what are your top tips for creating a culture of innovation?
Never exclude, always include all of your people! They know better! You can develop the best in class product, but if your processes are lame, your service is bad, and your communication isn't transparent you won't win your customer! And the customer is No #1


If you'd like to find out more about Neodigital, please visit its Sønr profile, or you can check out its website.