Create a blueprint for growth
Arrive at tomorrow a whole load quicker
Partner with Sønr to create a comprehensive growth strategy that aligns with your business goals and maximizes market opportunities. We can help you identify the best and most relevant opportunities for your business, connect you with them and validate the commercial upside.
Shorten your time to value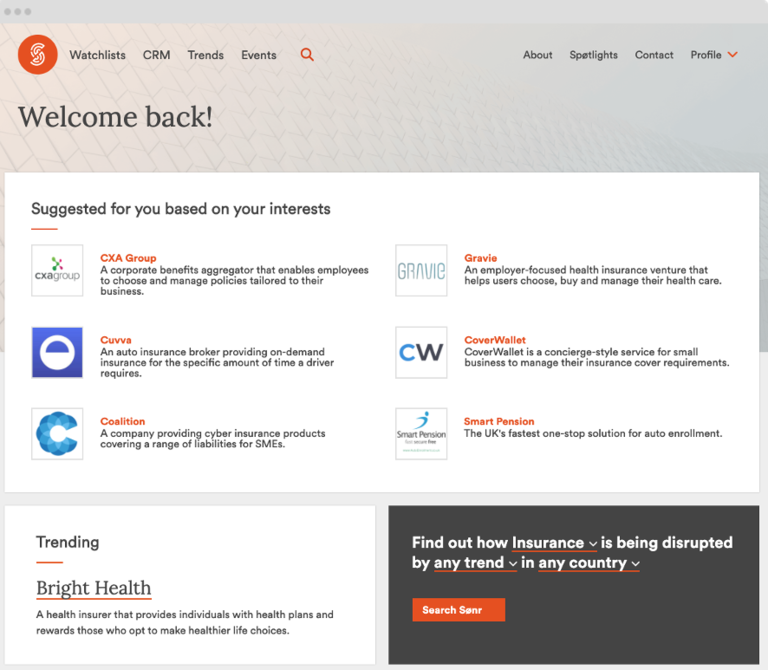 The world's most comprehensive source of innovation data
With data on millions of companies Sønr provides you with valuable intelligence on the global innovation reshaping the insurance sector; the market trends, the startups and scaleups rethinking today's business, and the innovation your competitors are working on.
We source and collate data on innovation activity from around the world. This is augmented by our in-house researchers and analysts to ensure it is kept up-to-the-minute, accurate and relevant.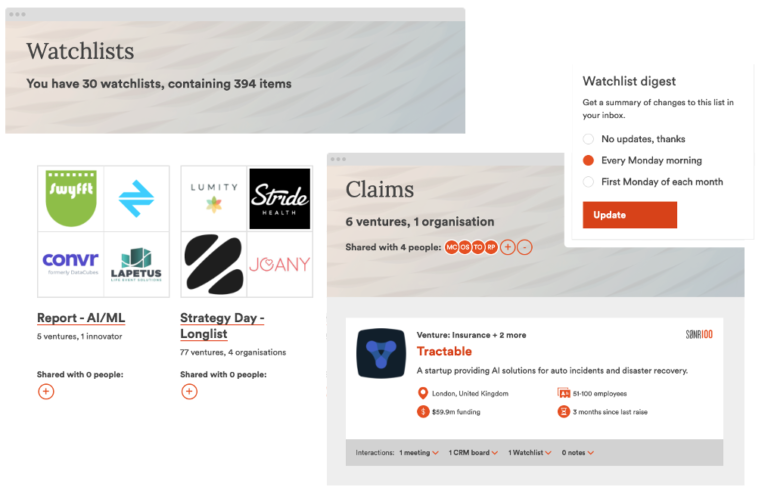 Track and cluster potential opportunities
You can keep track of companies (startups or competitors) by adding them to a Watchlist. In doing so, we'll let you know when there is an update to their profile, at a time that suits.
Better still, share Watchlists with your colleagues and  collaborate together.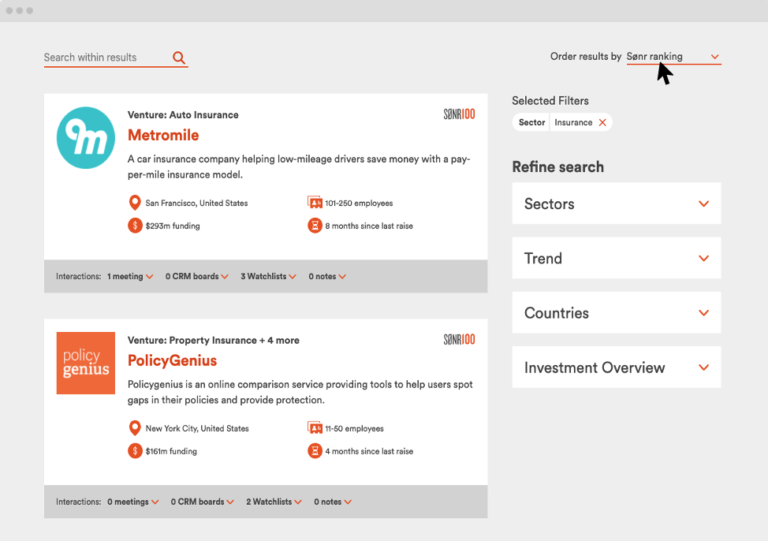 Make sure you're backing the winners
Sometimes it's tricky to evaluate one startup over the next. Not without a pile of work (and a fair bit of subjectivity) at least.
Our Sønr Index gives you a very simple score on how likely a company is to succeed.
It's created from the complex learning and evaluation of millions of data points across the people within the company, the product of the business and the traction it has had in their specific marketplace.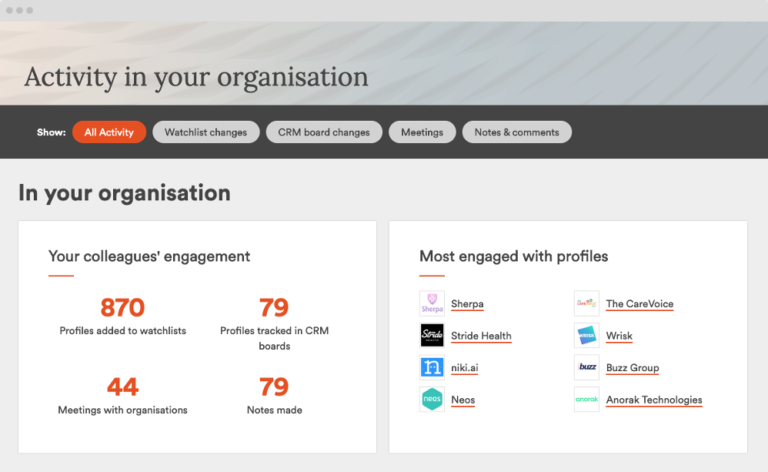 Build knowledge and capability across the business
If you have a decentralised team, which we kind of all do nowadays, it's critical to share knowledge quickly and effectively. Most of the industry, until recently, has be been using Excel spreadsheets to track, manage and share activity.
We created a suite of tools designed to distribute the latest knowledge and activity across all your Sønr users. Seriously powerful stuff when looking to stimulate collaboration across the business.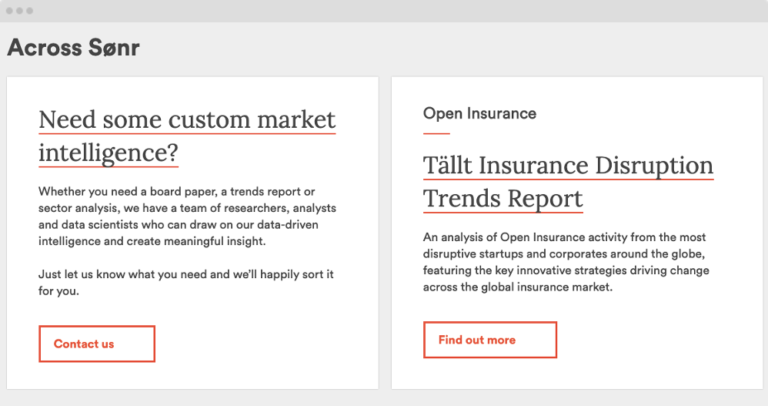 More than just a platform
Whether you need a board paper, a trends report, or some deep-dive analysis, we have a team of researchers, analysts, and data scientists who can draw on our data to create bespoke insight.
Plus if you've an idea for a new Sønr feature, accelerate roadmap delivery, or would like it integrated into any of your systems, we'd love to help.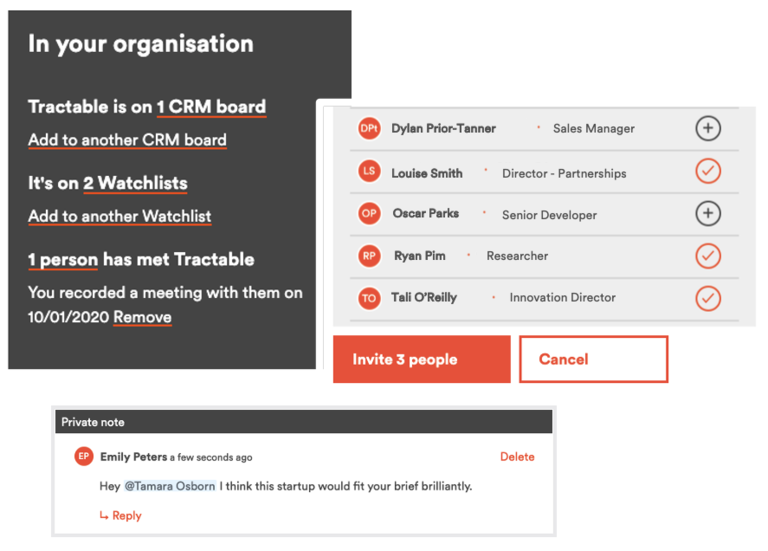 No more tripping up over each other
If you haven't already, very soon you will be meeting with startups that your colleagues have already met with.
We're able to put an end to that with the ability to record a meeting and to add a note against a company profile. So, next time you like the look of a startup, first of all check to see if any of your colleagues have met them and what notes they've taken.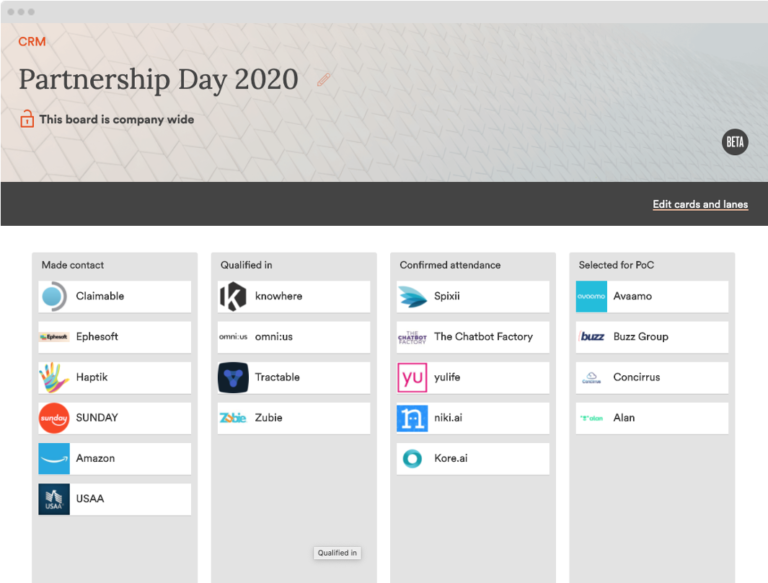 Build pipelines of activity
Once you've reached out to a startup, add them to one of your CRM boards. The boards are fully customisable, so you can set up different pipelines for different workflows. As conversations progress, simply drag and drop the company across the different 'lanes'.
If you want to keep all this private, no worries. If you want to share it with colleagues, just add them to it and they'll get sent an invite.