Drive continuous improvement, growth, and advantage
Sønr's innovation management platform simplifies the process of collaborating with startups. It offers a seamless way to record meetings, track discussions and PoCs, and share insights with your team.
This streamlining of interactions ensures that your company can work effectively with promising startup partners. By effortlessly managing your startup relationships, you can make the most of innovative opportunities in the insurance industry.
Stimulate collaboration and discover new opportunities across the company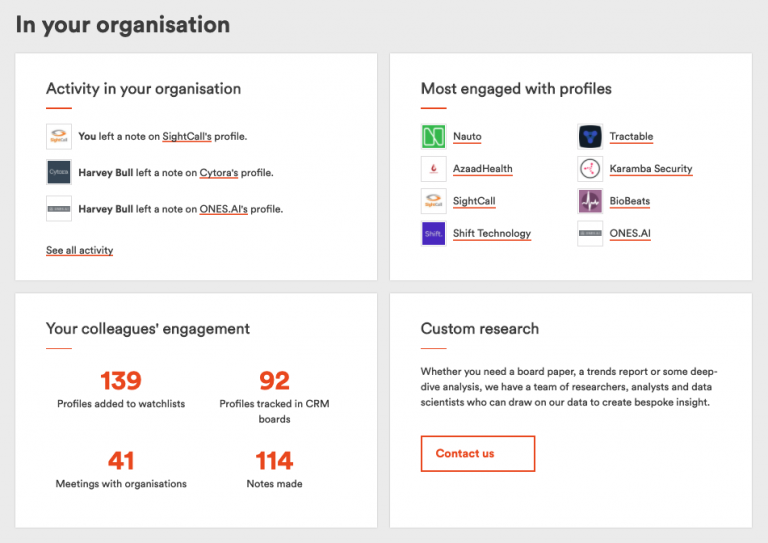 Build knowledge and capability across the business
It's essential for any decentralised teams (which we all are to a greater or lesser degree these days) to effectively disseminate knowledge, collaborate on activity and avoid duplication of efforts. Often easier said than done. 
Sønr enables teams to join up, instantly see what each other is working on and where conversations have got to. Seriously powerful stuff.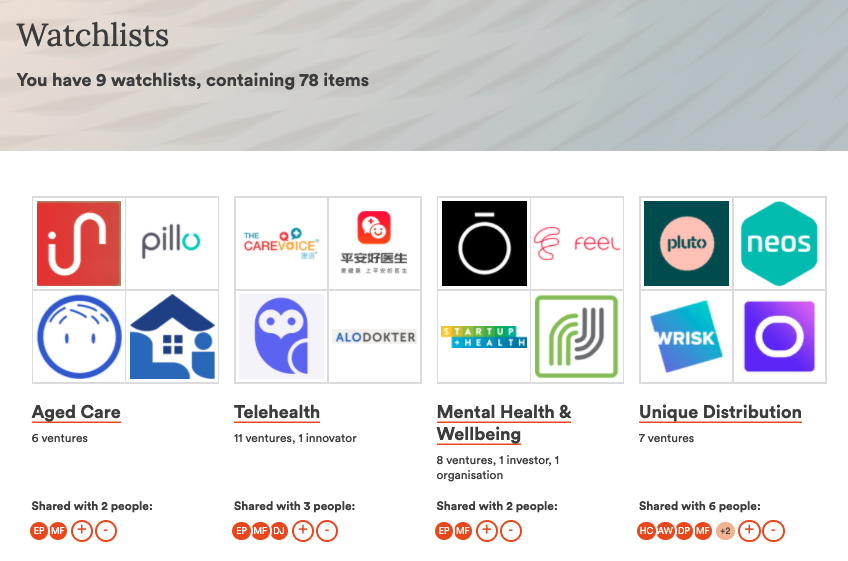 Work together to build collections of interest
Sønr enables users to group interesting companies into a Watchlist. Each Watchlist can be private to a single user, shared with a team or specific users, or made available company wide.
Watchlists are often used by clients to track thematic innovation and can be added to any time needs change or new companies emerge. The notification system allows anyone tracking a particular Watchlist to receive updates – a great way of keeping a team across the latest movements in the market.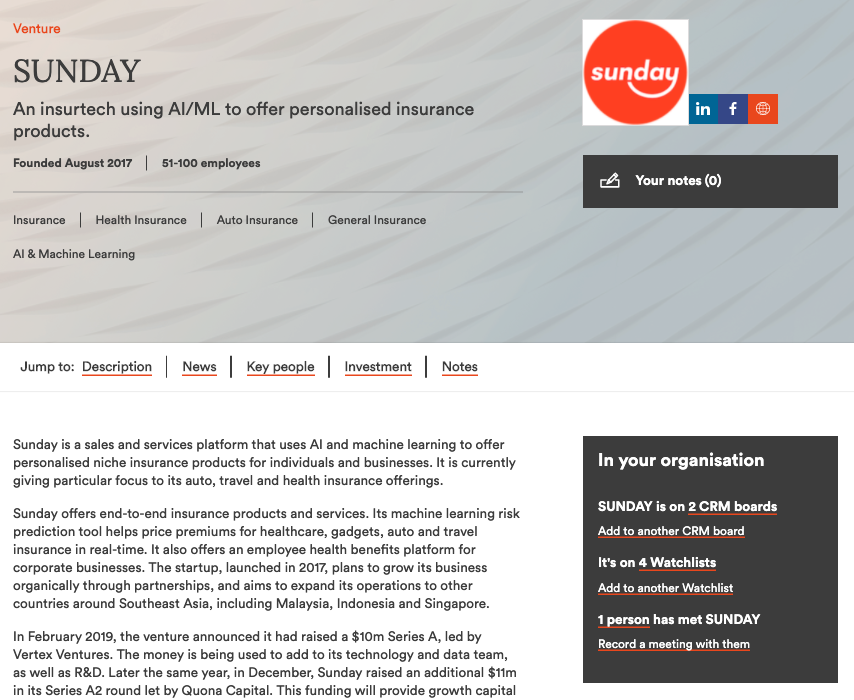 Track company-wide interactions
It's hard enough remembering who you have spoken to and the conversation you had. Multiply that across your team and it's no wonder companies find themselves stepping on each others' toes and duplicating effort.
Working with our clients we've built a number of tools that make it easy for companies to see, at a glance, what each team member is working on and what activity has been taken. No more Excel sheets, just more efficient working and ultimately a happier, more knowledgeable team.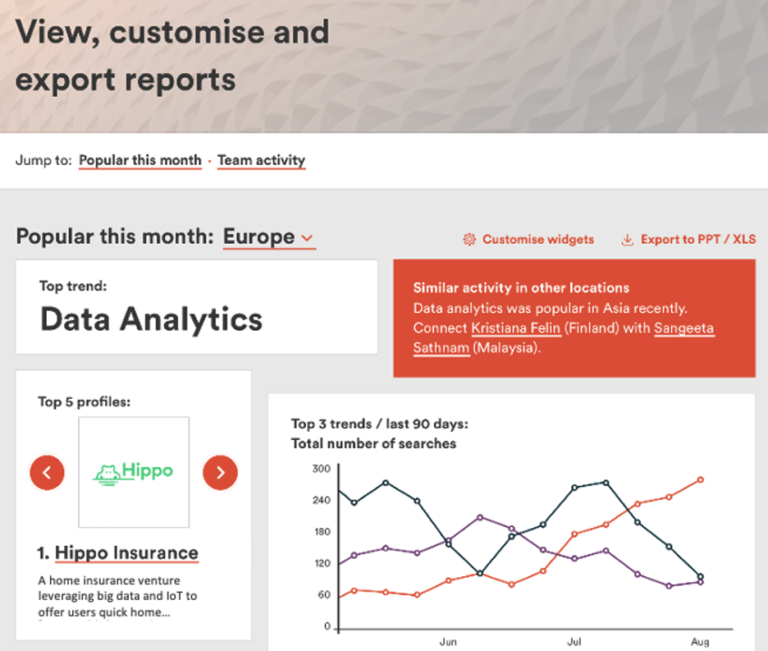 Get early-sight of what's important across the business
Sønr's reporting tools shine a light on your teams' activity – the trends they're exploring, the companies they're looking at and the interactions they've had.
They also provide early sight of new trends they might be exploring and can even help join up teams who are independently looking at the same areas.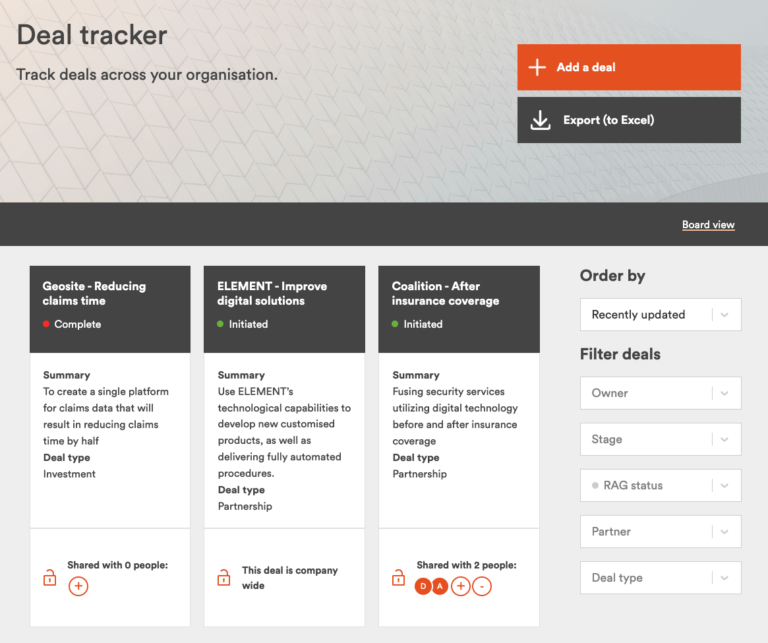 Seamless PoC tracking and evaluation
Take control of your proof of concept initiatives with Sønr's platform.
It offers a seamless way to monitor PoC progress, document results, and assess their viability.
By centralising PoC data, you can easily track the performance of various concepts and evaluate their potential. This transparency empowers you to make data-driven decisions across your company on which concepts to pursue further, ultimately streamlining your innovation strategy.