Build a culture of innovators
Educate, excite and connect
In a world that is moving quicker than most can keep up, it's critical to tap into your company's collective hive-mind and create a more innovative workforce.
Sønr combines intelligence on the latest innovation from across the world with the tools to track, share and collaborate your culture of innovation activity. With almost everyone around the world working from home, bringing people together has never been so important.
Start your free 14-day trial:
Build knowledge, drive collaboration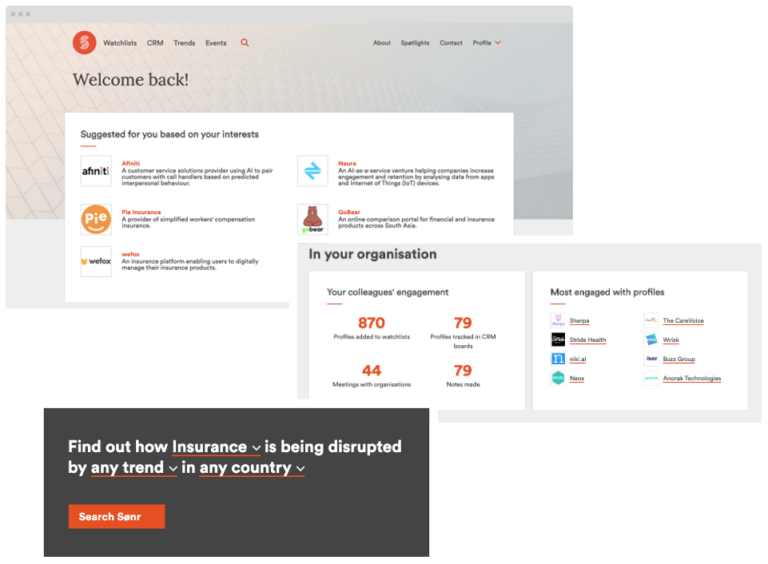 Inspire your workforce by sharing the art of the possible
Sønr is a one-stop shop for what's going on in and around the world of insurance innovation. 
With data on millions of companies Sønr provides valuable intelligence on the global innovation reshaping the insurance sector; the market trends, the startups and scaleups rethinking today's business, and the culture of innovation your competitors are working on.
Everything a team needs to be informed, connected, and empowered.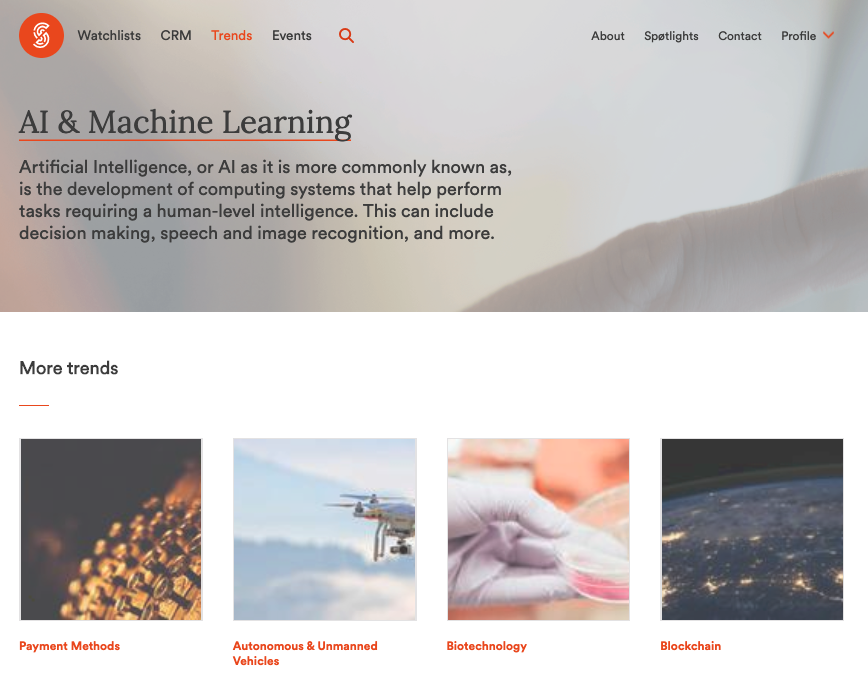 Track innovation across the entire industry
Using Sønr, your teams can access the latest market trends and explore the startups and scale-ups driving change. Likewise the innovation they're bringing to market and the partnerships they're establishing with other corporates.
We also curate a hyper-personalised weekly email, ensuring each of our clients is kept up-to-date with the most relevant and latest innovation news.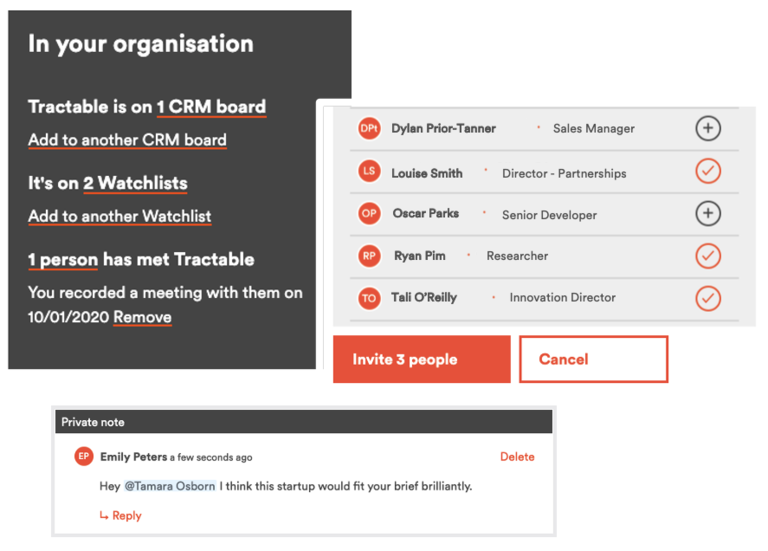 Harness the value of the hive-mind
In the new world where teams, and therefore knowledge, are distributed, we've built a suite of tools that help you get the most from your culture of innovation activity.
For instance, recording which startups you and your colleagues have met with, through accessing and sharing notes, Watchlists, and CRM boards.
The more people you have using the platform, the more value you'll get from it.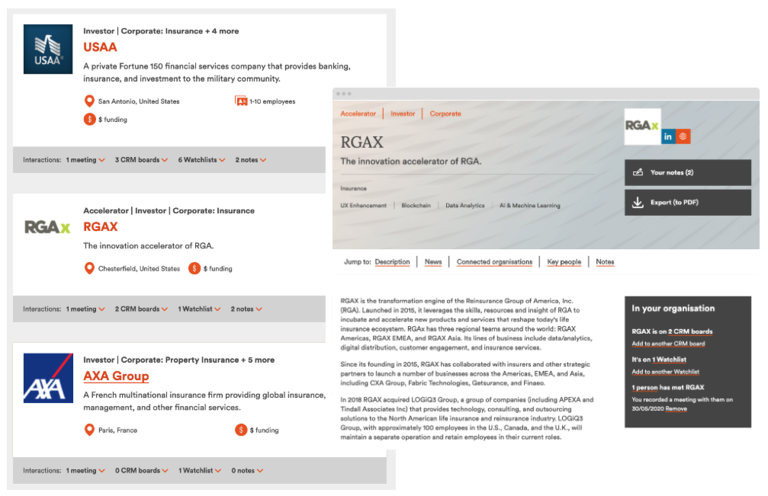 Gain intelligence on competitor innovation and strategic direction
Knowing what your competitors are up to is critical insight in building for the future.
Therefore Sønr tracks all your competitors' corporate innovation – their investment and acquisition activity, partnerships they have with startups, and any new product launches.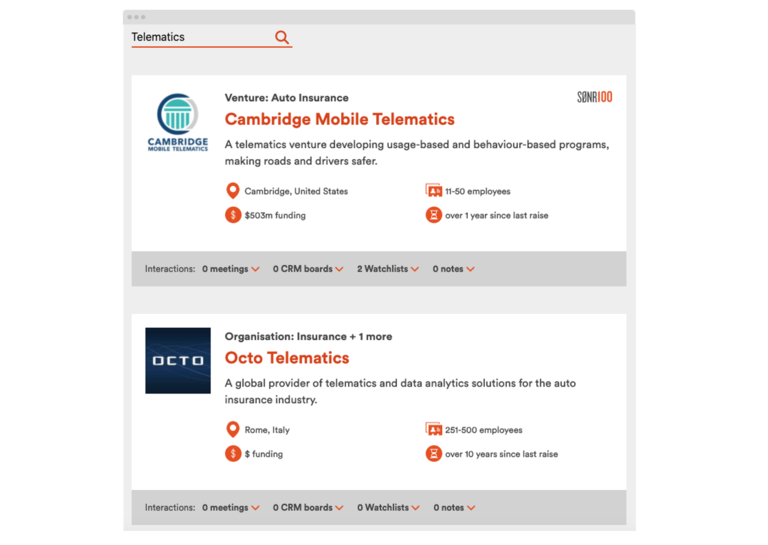 Explore the innovation outside of insurance
More and more we're seeing competitive advantage gained by partnering with innovation originating from outside the insurance industry. 
Therefore, Sønr tracks innovation across all sectors, on a global basis. This allows you to pinpoint the startups and scaleups, from inside or outside of insurance, which can best accelerate and strengthen your business.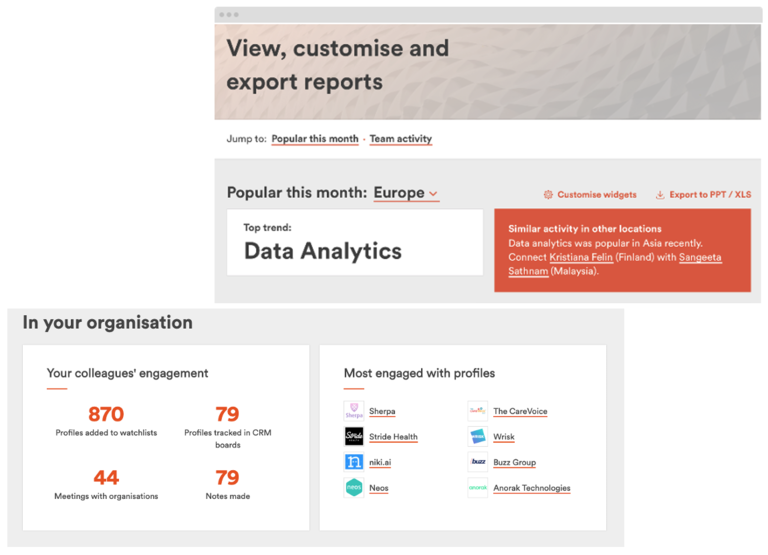 Build knowledge and capability across the business
It's essential for any decentralised team to effectively disseminate knowledge and collaborate on activity. To date, this has meant a mix of Excel spreadsheets and diarised team calls. All crazily inefficient and difficult to manage.
Sønr enables companies to distribute the latest innovation knowledge across all users, and provides the tools to stimulate and track collaboration. Seriously powerful stuff.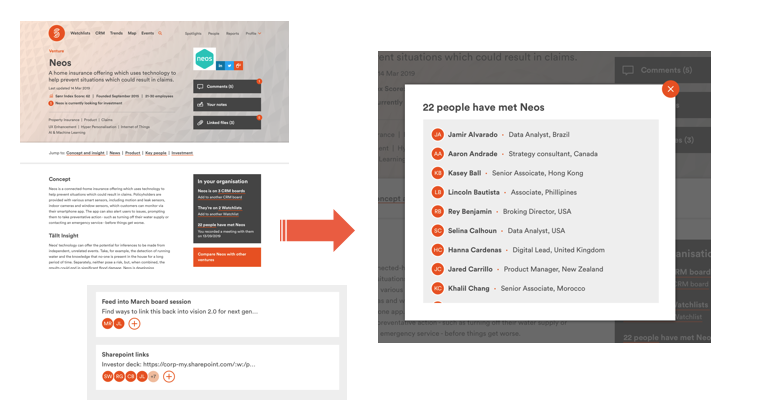 Record meetings with startups
Keeping a record of who has met with which startup has been a challenge for all our clients. Therefore we've made life a little easier and built a meeting tracker. 
Now all your Sønr users can record meetings and add and attach any notes they might have made. Most importantly they can see who has already met with a startup and any follow-on activity taken with it.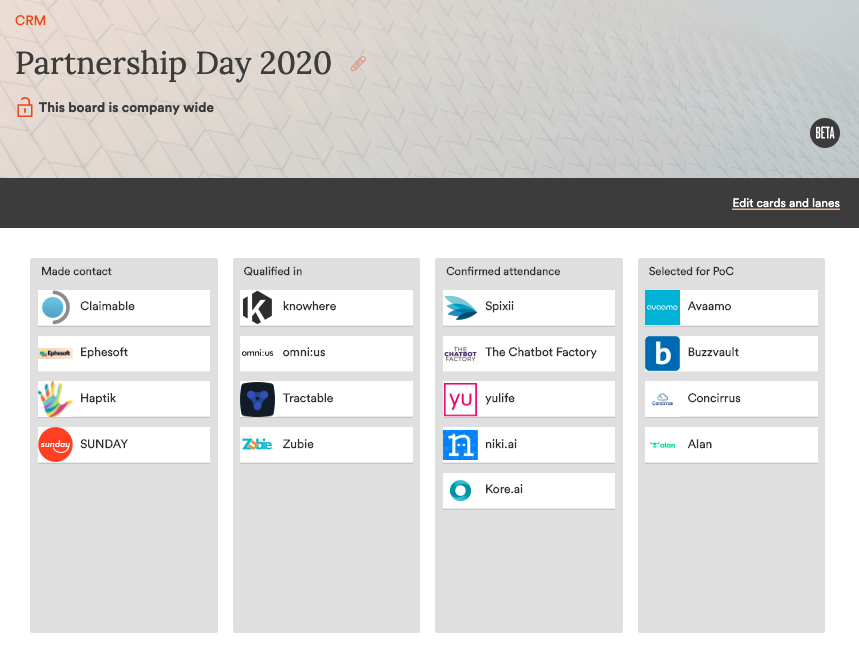 Create pipelines of activity
Once you've reached out to a startup, add them to one of your CRM boards and keep a track on the activity.
CRM boards are fully customisable, so you can set up different pipelines for different teams or workflows. And as conversations progress, simply drag and drop the company across the different 'lanes'.
If you want to keep all this private, no worries. Equally, if you want to share with colleagues, it's super easy.