Enhanced innovation management
Connecting teams and innovation activity
As the innovation activity matures across a business it becomes ever more difficult to track meetings, relationships, dealflow, PoC's and even investment activity.
We've worked with our clients to build a customisable toolset that enable teams to share knowledge and work together. Whether used to manage end-to-end projects or specific tasks, consolidating this information in one place improves productivity, stimulates knowledge-sharing and reduces duplicated effort.
Build knowledge, drive collaboration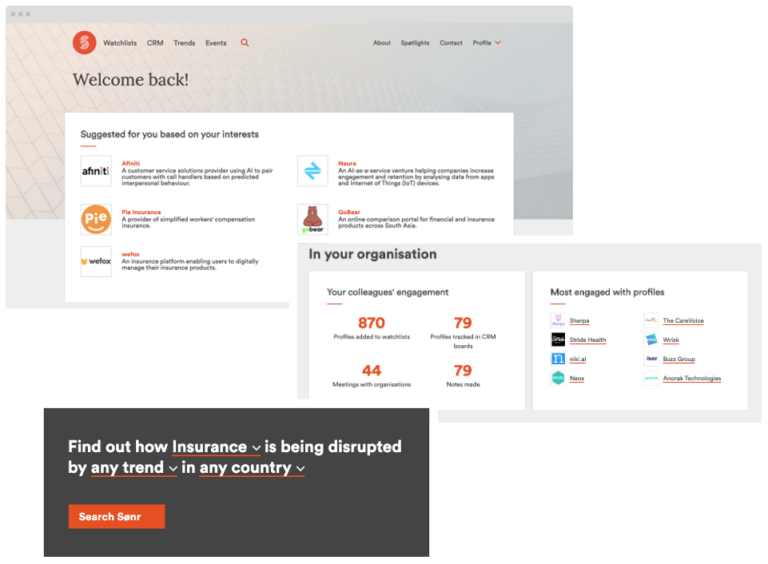 Effortless startup collaboration
Sønr's innovation management platform simplifies the process of collaborating with startups. It offers a seamless way to record meetings, track discussions, and share insights with your team.
This streamlining of interactions ensures that your company can work effectively with promising startup partners. By effortlessly managing your startup relationships, you can make the most of innovative opportunities in the insurance industry.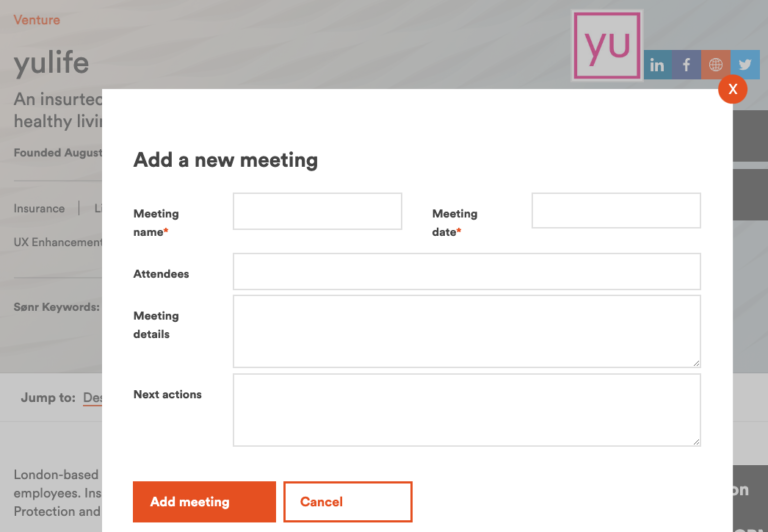 Detailed meeting records at your fingertips
Never worry about missing important details from interactions with startups again.
Sønr's platform enables users to record comprehensive meeting notes, providing you with a complete and organised archive of all discussions.
This easy reference to conversations enhances your decision-making process by giving you access to historical context. With detailed meeting records readily available, you can make informed choices that drive innovation forward.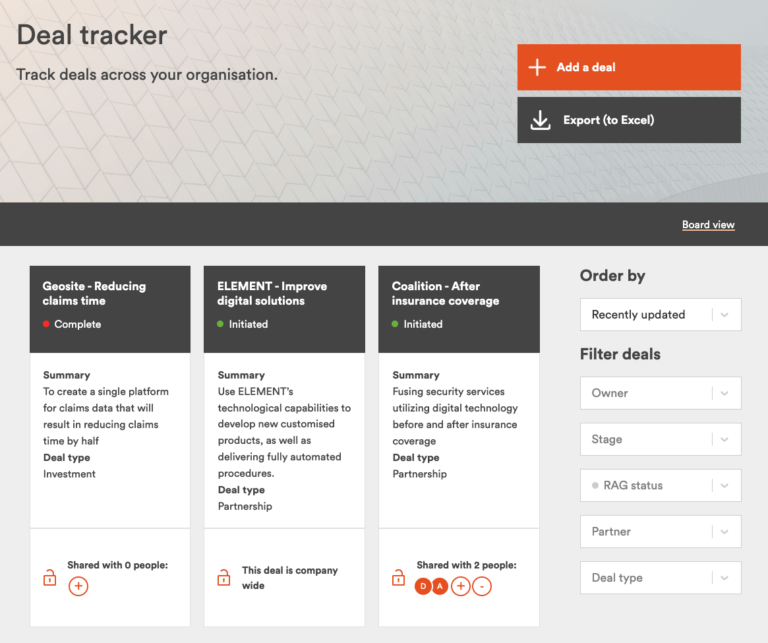 Seamless PoC tracking and evaluation
Take control of your investments, acquisitions and PoCs with Sønr's platform.
It offers a seamless way to monitor deal progress, document results, and record their viability.
By centralising project and deal data, you can easily track the performance of various concepts and evaluate their potential. This transparency empowers you and your colleagues to make data-driven decisions on which concepts to pursue further, ultimately streamlining your innovation strategy.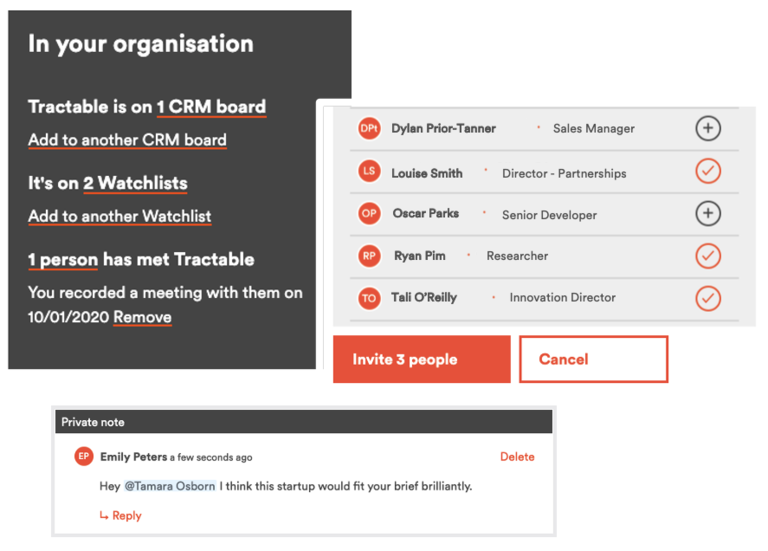 Real-time collaboration for your team
Foster real-time collaboration among your team members with Sønr's platform.
Whether you're discussing potential partnerships or evaluating PoCs, the platform enables immediate information sharing and collaboration.
This real-time connectivity ensures that everyone stays on the same page, facilitating agile decision-making and innovation within your insurance organisation. Your team can work together more effectively, making the most of every opportunity.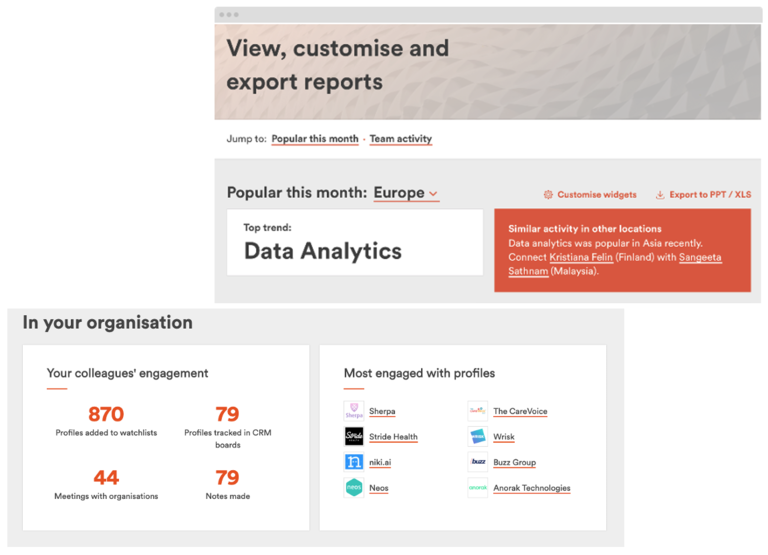 Data-driven insights for strategic innovation
Leverage the power of data to refine your innovation strategy with Sønr's platform.
The platform collates valuable interactions across all your innovation activity. Once centralised, you can make informed decisions and adjustments to your innovation approach.
By identifying trends and patterns, you can stay ahead in the competitive insurance landscape, positioning your company as a leader in strategic innovation. Sønr's platform empowers you with the tools needed to innovate confidently and effectively.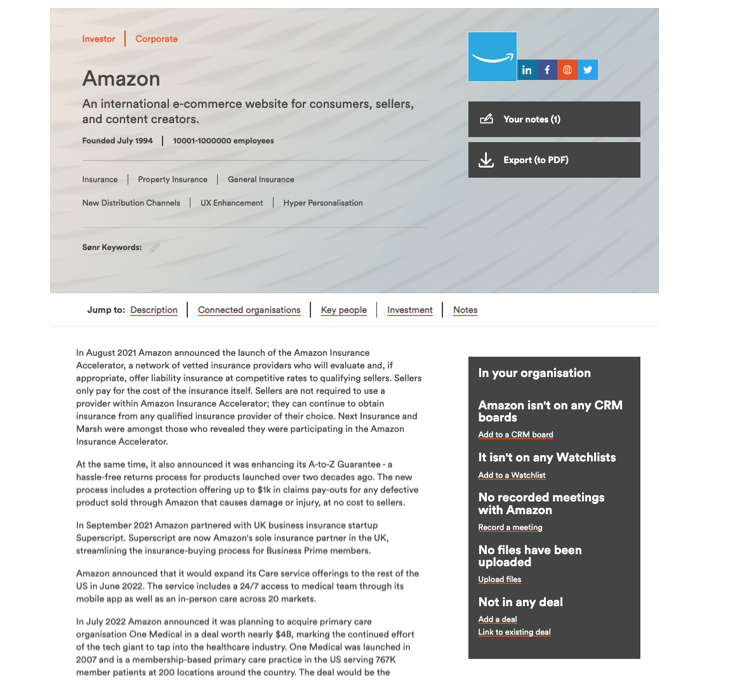 Explore opportunities outside of insurance
More and more we're seeing competitive advantage gained by partnering with innovation originating from outside the insurance industry. 
Therefore, Sønr tracks innovation across all sectors, on a global basis.  Better still the profile of these businesses are written for the insurance reader. This allows you to pinpoint the startups, scaleups and even Big Tech, which represent both opportunity and threat to your business.