Nigel Fellowes-Freeman – Kanopi
Spøtlight : 6 min read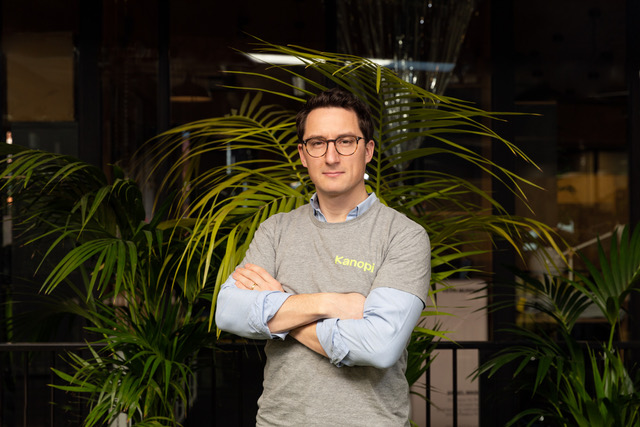 This week our Spøtlight is on Nigel Fellowes-Freeman, Founder and CEO of Kanopi, a data-driven insurance platform which helps insurers digitally transform their business, embed insurance and integrate across the industry's ecosystem. We deep dive into Kanopi's platform, changing customer expectations, and the opportunities Connected Insurance presents.

Hi Nigel, could you tell us a little about yourself, and your career leading up to Kanopi?
I started out as a physiotherapist in 2007, before making the jump to startups. I had always wanted to start my own gig. I have always been driven by wanting to solve problems and finding new and better ways of doing things so starting up businesses that solved bigger problems for more people felt like a natural progression. I have since started a number of startups, some successful, some failures, but what motivates me now is the same thing that motivated me when I started out years ago – which is to have a positive impact on the world.

Introduce us to Kanopi in your own words.
Kanopi is a data-driven platform that helps insurers improve existing products and create new ones quickly and easily to meet customers' changing needs. With Kanopi insurers can offer enhanced cover and engage ecosystem partners to support those who want cover that protects them as their needs evolve.

Tell us more about the different ways in which Kanopi enables users to integrate its offerings?
One of the primary issues we solve is helping insurers overcome legacy technology. The Kanopi platform easily integrates with an insurers' systems, breaking down technology and data silos and helping them integrate digitally with more distributors. This makes creating new products and updating existing ones easy. The access and ability to process more data helps them create intelligent cover based on insights.
This also helps them embed insurance at the right point in time for the customer. For example, by integrating their cover with a partnering accounting platform the insurer is able to dynamically adapt cover for business owners on that platform. When the accounting platform detects the purchase of a new asset, the business owner's insurance automatically updates. By using several data points the insurer can more accurately calculate risk and the related premium too.

How do you think the end-customer's experience and expectations are changing through Connected Insurance?
Customer expectations are what's driving a growing trend in connected insurance. The way people expect to purchase insurance is changing. Customers have always wanted cover that keeps them protected. Now technology and data have changed their expectations for personalisation and convenience.
As more insurers adopt flexible technology to create connected insurance that dynamically adapts to policyholder needs, customers will increasingly expect an embedded experience.
The application of insights from data will also be a game changer for the end-customer. We know from industry reports that customers are willing to share their data if it's used to create products that meet their needs. Insurers have a great opportunity to use this data to not only to create new, personalised products but also provide a service to help their customers mitigate risks. This will result in the end customers experiencing insurance 'invisibly' embedded within the products and services they use every day.

How do you think Connected Insurance will change the insurance industry over the next 10 years? What are the coming opportunities and threats?
I think automation, AI, machine learning and data will transform how insurance is perceived 10 years from now. There will not be 'an insurance experience' per se, there will be product or service experiences within an ecosystem and insurance will be indistinguible.
Automation will create faster customer service experiences for claims processing for example, transforming a highly stressful moment in a customer's life into one where they feel looked after straight away.
Additionally, data across ecosystems will create a finer understanding of the customer. Coupled with AI and machine learning it will lead to the creation of better cover more applicable protection within every ecosystem we interact with.
More entities will collaborate to create data pools. This abundance of flowing information will also likely mean new frameworks that regulate how data is stored, used and shared will become necessary. Regulation to ensure security around data is important so I don't see this as a threat, but regulatory bodies will need to make sure they don't create cumbersome red tape, and that as technology evolves the regulation adapts with it to protect personal information while also making innovation possible.

Last year Kanopi raised AU$4m, and rebranded from Expense Check after previously focusing on cost-effective decision-making for SMBs. What made you decide to focus more on the insurance side of things?
Together with the team at Kanopi I listened to where our small business customers needed most help. Insurance stood out as something they felt was complex. It was also a product they required and that would help them reach their full potential as businesses, but often they felt it did not meet their needs 100%. We knew that if we changed this for them we would be making a huge impact. We had a robust data platform already in place and so we set out to work with insurers and ecosystem partners to transform insurance from the inside out.

What are some of your other highlights from 2021?
The raise and the rebrand are definite highlights for 2021. The business has an increased focus and the support from our investors means we can put more of our plans into action and create even more positive impact.
Hiring is an ongoing activity as we continue to grow the team – since jump starting our recruitment at the start of the year we have filled positions for some key hires and I'm looking forward to more talent joining the team as our quest for talent continues.

How did Covid-19 affect your business?
Since it's been ongoing for 18+ months we've felt the impact differently over time. Since we are a B2B business working directly with insurers the impact on our customers and partners has a direct knock on effect on ourselves. One of the first things that we experienced was in fact losing a close partner due to reduced risk appetite brought on by the pandemic. We've also had staff who've had to leave due to slow visa turn around and border closures. But we've come out the other side having learnt a few lessons early and now we are even stronger for it.

What are Kanopi's plans for the next 12-months?
To continue helping more insurers with solutions that meet their need to offer more contextual experiences to their customers. We also plan to keep on growing both with overseas expansion and by hiring more people to continue to fuel our growth.

Finally, how do you create a culture of innovation at Kanopi?
I am surrounded by a team of people who don't dodge any hard questions. As a result we are always open to solving problems with new ideas. We are culturally data-driven, which guides a lot of our decision-making too. Of course you can't know for sure what will work until you try it out so we balances healthy challenge and nurturing support which is the most important ingredient for us as a growing business.
If you'd like to find out more about Kanopi, please visit its Sønr profile, or you can check out its website.