Tunde Salako – Hadiel
Spøtlight : 7 min read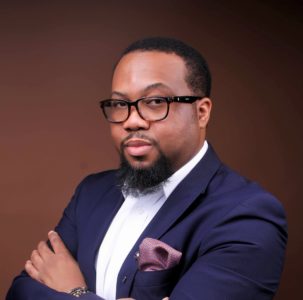 This week our Spøtlight is on Tunde Salako, the Co-Founder and CEO of Nigeria-based health insurtech Hadiel, and the CEO of Africa Insurtech Rising, to find out more about his mission to promote inclusion in insurance in Africa.

Hi Tunde, could you tell us a little about yourself?
Thanks for talking to me Emily. I am foundationally a medic by background but, I have found myself on the business side of the fence for 15years+, particularly in the insurance space. Hence I like to describe my ikigai as connecting the dots between insurance, technology, and deepening penetration. My interests cut across technology, analytics, and business process automation. I am passionate about the use of tech to galvanise inclusion in the insurance space.

Can you tell us more about your health insurtech, Hadiel, its offerings, and the technology and data behind its predictive modeling?
Hadiel is a digital health insurtech platform that aggregates all stakeholders of the insurance ecosystem, being the payer, user, and service provider. It curates health information and insurance utilization to churn out insights on disease trends, health expenditure, and behavioral health trends via data science and analytics.
We are on a mission to change the narrative in the health insurance space via inclusion in Africa to achieve optimized and quality health coverage by shifting paradigms with technology and data.
Millennials, Digital Nomads, Small Businesses, Gig economy workers are all segments that are unfortunately underserved by financial services providers, including insurance.
We are delivering solutions not only to the formal/organized sector but micro-driven solutions for the underserved for the purpose of creating affordability and accessibility. Our core value chain is wedged on our evaluation dashboards, augmented underwriting and an artificial intelligence symptoms checker embedded API.
The predictive modulation is back-end driven, which is harnessed by machine learning from which deductions are easily extrapolated for business intelligence and decision purposes. So for example, purchasers will be able to plan/forecast, with different levels of precision based on their usage patterns, future benefits that are specific to them, and levels of pricing that will be tied to such benefits
This ultimately will skew customers towards the evolving trends of personalization and the users-sharing economy, which are user trends unfolding in emerging economies and different parts of the world that help lower frictions in the adoption

How has your background in medicine influenced your development of health insurtech Hadiel?
Well, the combination of my experiences, with my background, I would say serves as a very solid foundation to understanding the different sides of our organization. For instance, we are able to appreciate medical benefits, terminologies, and their cost implications in different markets not only from a business perspective but also from the lenses of the end-users. This enables us as a team to document and evaluate critical decision pathways internally.
It also helps to see and appreciate the cost impact and bottom line regarding business decisions. Summarily, it is advantageous to be at the intersection of both the health and insurance industries whilst working with a team of diverse experiences and professional backgrounds

Can you share some of Hadiel's plans for 2021? Any key targets or milestones?
So our value proposition is wedged on micro-solutions to hyper-personalised deliveries. To this end, we are working on rolling out usage-based and collaborative subscription pooling products for the gig economy, small businesses and associations. We are also working on a few major B2B affiliations for the purpose of driving this effectively.

Tell us about Africa InsurTech Rising and its mission?
Africa InsurTech Rising is a platform aggregator of all stakeholders in the InsurTech ecosystem with a focus on the African insurance space, passionately reverse-engineering insurance inclusion on the continent via technology.
We commenced this platform because we are enthusiastic about creating a movement where local narratives are scripted by sharing unique solutions with Africa and the global community, and we maintain optimistic that the next unicorns will emerge from the continent. We are on a mission to propagate the unique African narratives in her pursuit for insurance penetration and inclusion by showcasing the resilient and innovative strides to the global community.

Africa InsurTech Rising was part of the ITC global roadshow recently – how was that experience?
Yes! So that was very exciting for us (one of the perks we benefited from with the pandemic!). The ITC global event traditionally takes place in Las Vegas every year but, for obvious reasons in 2020 it had to be virtual. Hence, ITC wanted to bring the usual global audience of this premium show directly to their screens. Based on this, we were able to deliver this global event and conference to both Anglophone and Francophone regions of Africa together with the African Fintech Network. It was a very exhilarating experience for us as we brought together the best of the best in one place, and the global community was able to peep in on-demand and get acquainted with the great strides and problems start-ups are taking on in Africa.

What do you think insurtech will look like in 10 years in Africa? What are the coming opportunities and threats?
I am very optimistic that space will likely be almost at par with the mature systems in terms of funding for starters. (Considering the recent trajectory it's taking behind the Fintech space). I also see trends in emerging tech – particularly artificial intelligence, mobile, big data, and IOT – revamping critical areas of the Insurance value chain such as underwriting, claims processing, and user engagement.
On-demand, per usage platforms, micro-solutions, and sharing ecosystems that will further de-risk subscriptions/purchases will be the new order due to the deep mobile penetration and embedded finance systems unfolding. We just need to be conscious that innovation is not stifled by bureaucracies and regulations such that there is ample room for new solutions to thrive and flourish.

If you had to give one piece of advice for aspiring startups looking to disrupt the insurance industry, what would it be?
The space is extremely huge. I would say take a critical niche and aim to be a catalyst that nurtures that space, with a view to eliminating frictions in product delivery and creating more adaptable solutions. For example, administration, policy writing, and underwriting, all need burning new solutions in the Insurance ecosystem. It's important to focus on refining the end users' journey whilst studying emerging business models.
Is there a startup within the insurance or wider financial services space you think should be one to watch in 2021?
Aha! You would have to pardon me on this Emily. I will want to exclude that confirmation bias on name-dropping for such African startups. However, on a global pedestal personally, I think Hippo insurance is definitely one to keep an eye out for.


If you'd like to find out more about Hadiel, please visit its Sønr profile, or you can check out its website.