Irene van den Brink – Digital Insurance Group
Spøtlight : 6 min read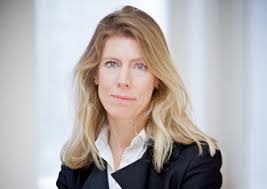 Welcome to the new series of Spøtlights! We're kicking off the new year with Irene van den Brink, CCO of Digital Insurance Group (DIG).
DIG is a technology partner to insurers, banks and brokers, and its data-driven insurance platform enables its partners to offer fully integrated insurance solutions to their customers at speed.
Hi Irene, could you tell us a little about yourself and the Digital Insurance Group?
I have a clear ambition to make insurance better and easier for consumers through digital and client-driven experiences. In my role as CCO for Digital InSurance Group I partner with insurers and banks and help them innovate where needed. Before DIG, I was responsible for Business Development at digital insurer InShared, where I set-up the international business and co-founded OutShared, an additional insurtech business model. Prior, I had 10+ years in business development and innovation for global banking and insurance companies. I'm also is a frequent speaker at conferences, closely connected to DIA and was named top 10 female influencer in Insurtech in the EU by the Insider.
Digital Insurance Group (DIG) is a leading Insurtech partner that enables insurers and banks to innovate at record speed by enabling the integration with legacy systems where and when needed. DIG's solutions improve people's lives by giving them access to the right insurance faster, simpler and safer.
DIG was born in 2017 through the merger of two European Insurtechs: Knip, the first digital insurance broker in Europe, and Komparu, a leading Dutch Insurtech start-up. Combining the force of the two, DIG brings over 10 years of experience in this young Insurtech market.
What advantages do your solutions offer to insurance companies, banks and brokers?
DIG enables insurers, banks and brokers to build new digital propositions from scratch or on top of their existing systems at record speed. In the current insurance industry where customer demands are changing and digital propositions are becoming necessity, there are two main problems of the incumbents that we are addressing: 1) a lack of new sales and thus increasing pressure to look for new approaches to reach new client segments and 2) customer retention in which share of wallet and offering new services to existing users are becoming increasingly relevant.
The biggest challenge for the incumbents to solve these problems is their complex IT architecture, which entails a lot of time and resources in order to make a speedy transformation. With our modular API-based platform and shared front-end framework, DIG enables insurers and banks to build new digital propositions on top of their legacy systems at record speed.
DIG offers scalable and customisable solutions to grow business as the industry moves towards new business models. This allows not only to offer new opportunities for revenue growth but also to add real value to both of their new and existing customers at lower costs. The DIG experience enables building bridges between business and IT that drive a new insurer-customer relationship and experience to a new level of reciprocity.
As such, DIG's ultimate mission is to disrupt insurance across the world and positively impact the lives of millions of people by giving the right insurance and peace of mind in a truly digital way.
"DIG was born in 2017 through the merger of two European Insurtechs: Knip, the first digital insurance broker in Europe, and Komparu, a leading Dutch Insurtech start-up."

Irene van den Brink
What's a key factor in making partnerships between insurtechs and incumbent insurance companies truly successful for both parties?
One of the key factors would be the understanding of the shared challenges we are facing in the industry as a whole and the collective efforts and collaborative mindset to tackle these in a way that benefits all of us. As it would be in any partnership, understanding the essence of why both parties need each other and finding a way to work together that utilises the strengths and complement the weaknesses is crucial. Insurtechs are born to take risks and promote growth through agile and novel approaches based on latest technologies and new way of thinking.
Incumbents, on the other hand, are established based on decades of expertise and solid resources that enable stability and minimised risks. In today's market where the tech giants are entering the market with a massive pool of data and posing a different challenge, the dynamics that maximise a symbiotic relationship would be a key to the successful partnership.
You've built solutions for clients in Europe and Latin America. Have you noticed any key differences or similarities in insurance/technology trends across the geographies?
Similarities
• One of the observed similarities is the universal challenge that insurers and banks are trying to solve—that is attracting new customer segments and increasing customer loyalty. There are numerous Insurtech players or innovation initiatives that were born in the last few years and are at its birth as we speak. All of these are tackling different aspects of insurance industry, but whatever solutions they provide it comes down to this one key challenge. And we believe that is why our solutions appeal to the insurers and banks all around the world because we enable that at the fundamental level.
• Connected to the previous point is the fact that in all geographies there is a search for the right ecosystem partners to offer services to clients that go beyond insurance.
Differences
• Every region or country has a different market structure and the way it is changing in terms of sales, distribution and touchpoints with customers. For example, in some places, other parties than insurers such as banks, brokers or aggregators take a bigger role in selling insurances and/or engaging with customers. It means collaborations between different players such as insurers, banks and brokers are closer in some places than others.
• Also, the state of the industry is different per country as in more markets people have insurance for everything where in others, they do not understand why they even need insurance. Obviously, that calls for different solutions.
• One of the most important and prominent differences is the privacy and data security practices that largely vary by geographies. As every region has different regulations and standards of collecting, processing and storing sensitive customer data, it means development of digital propositions has to integrate varying features and controlling process to comply with the relevant geographical regulations and limitations.
You guys are currently hiring for some interesting roles. What do you see as the most important qualities in people when scaling a team?
Good question. One of the most important values we seek from the potential team members is the entrepreneurial mindset and passion towards innovation. Working egoless together to achieve our mission of empowering insurers and banks and ultimately contributing to giving people all around the world access to the right insurance and peace of mind in a truly digital way.
Some of our key company values are commitment, passion and being curious. We appreciate brilliant talents who are equipped with not only great professional skills but also committed and passionate attitude towards what they do and curious enough not to stay in status quo but continue questioning how to do different and better. Lastly, we value inclusiveness in our culture—we value open-mindedness, various cultures, backgrounds, thoughts and ways of expressing ourselves that promote the best version of our people.
What were some of your company highlights from last year?
• Multi-year collaboration with Zurich
• Zurich Connect app launch in Italy and within 3 months was a top 3 App within Zurich
• A new digital insurer in Chile that is about to go live
• A huge increase in staff as we are growing rapidly
Can you share some of DIG's plans for 2020? Any key targets or milestones?
• Continued focus on Europe and the Americas
• Core product development (DIG Acceleration Platform)
• Continuation of innovate projects for our clients
• New partnerships (which I cannot mention yet)
• Series B investment round
If you had to give one piece of advice for aspiring startups looking to disrupt the insurance industry, what would it be?
Always keep the end customer in mind. It is always easy to try and outsmart the rest of the industry, but this industry really needs concepts that make it better for clients. That is the only way to really disrupt the industry in a positive way.
Is there a startup within the insurance or wider financial services space you think should be one to watch in 2020?
I recently came across Dakkoloans which I loved as it gives access to health services in those countries where insurance is not that advanced or accessible to everyone. I think especially life and health are spaces where innovation is much needed and where we can make a huge impact on people's lives.
Finally, what's your favourite piece of technology from outside the world of insurance?
To be honest, my iPhone… It is really my lifeline when I am travelling as I can connect easily with my friends and family. Plus, it is one device where I have easy access to so many things. Including insurance if you do it right.
If you would like to find out more about Digital Insurance Group, please visit its website, or you can check out its Sønr profile.