Alex Rainey – Pluto
Spøtlight : 7 min read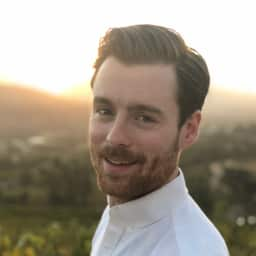 This week we've been chatting with Alex Rainey, co-founder and CEO of Pluto, a travel insurtech. We run through their busy year of crowdfunding, partnerships and more.
Hi Alex, could you tell us a little about yourself and Pluto?
I'm Alex, a travel insurtech, the CEO and one of the two co-founders at Pluto. I'm a bit of a techy at heart and love all things technology. Before Pluto, I worked for almost 7 years at Accenture Digital, building apps, websites, and everything in between.
Pluto really started in early 2018 as an idea. We knew there was an opportunity to fix all the problems with traditional travel insurance, but we also recognised that travel insurance is one small piece of the puzzle when you're thinking about removing the stresses or pain points that come with travelling. Our mission is to help people to make the most of their travels, we started with insurance, but we have a lot more to do!
Our hassle-free travel insurance was launched in December 2018 and is really focused on the modern traveller. They expect everything to be simple, to do everything on their phone and know that they can speak to a human whenever they want. That's what we've launched with Pluto so far.
In 2019 Pluto sought £200k on Seedrs, and ended up smashing that target – raising close to £645k (congrats!). Why did you choose to go down the crowdfunding route?
We were blown away by the response to the crowdfunding campaign. The investment is incredible, but so is the fact that we have almost 1,000 investors in Pluto. We're very humbled by that.
We chose crowdfunding because we wanted to build a big community of people who believed in what we're doing but also people who could be ambassadors for the company. A huge portion of our investors are customers or modern travellers themselves. Another reason is that the crowdfund really helped to promote the business and raise awareness which is always important for an early-stage startup.
Towards the end of last year, Pluto boosted its proposition with the integration of Babylon Health. Can you tell us a little bit more about what you're up to with them, and why you chose their service in particular over other partners?
This is such an awesome collaboration. What we've done is give all of our customers access to free Babylon consultations if they're unwell on their holiday. This means they can speak to a UK GP anywhere in the world at any time. All they do is tell us what's wrong through our mobile app (iOS and Android) and we get them a free consultation with Babylon. There really wasn't a more perfect partner for providing virtual healthcare through your phone.
Pluto has also partnered with Plum and Yolt. Can you talk us through your partnership strategy with money management apps?
We have a broad partnerships strategy and generally work with businesses where it makes sense to offer them travel insurance alongside their existing offering.
For travel companies, we can provide insurance as part of a trip.
And for money management apps, we know there is a huge overlap in both our audiences. Like our target audience, their users want to do everything on their phone, they want to use new companies that are making their lives easier and doing things differently. Secondly, we're working with these money management apps to provide smart contextual messages to remind them to check their travel insurance if a flight booking or hotel booking is seen.
What were some of your company highlights from last year?
Our biggest highlights last year have to be:
Our Seedrs crowdfund. Amazing amount of support and investment, we couldn't have been happier.

Launching our mobile app. This was the biggest update to our product to date. You'd expect most companies to have a decent app nowadays, in insurance, this couldn't be further from the truth.

Finally, and most importantly, we hired 3 new team members to join the Pluto family. They're all pros in their fields and already having a big impact on the business. Shout out to Ben, Ben and Giulio.
Can you, as a travel insurtech, share some of Pluto's plans for 2020? Any key targets or milestones?
Our key milestones for the next year evolve around:
Building an incredible team. Not necessarily through hiring more, but enabling our team to be the best they can and create an amazing place to work

Grow our travel insurance customer base. We want to achieve rapid growth on our new customers, drive up our renewal rate and the average premium and improve our margins as a business

Finally, and most excitingly, we're building and launching Pluto Pinboard. Our not so secret new proposition to allow people to plan and organise their trips but also discover things to do when they're away. Travel insurance is, in reality, a very small part of what people think about when they go away. We want to do more to help people make the most of their travels.
If you had to give one piece of advice for aspiring startups looking to disrupt the insurance industry, what would it be?
Patience. Insurance is a slow beast and insurers in some cases have been around for longer than most of us have been alive. This means they have a way of doing things and they turn like an oil tanker. There are two sides to this; when you're working with an insurer you need to understand and work within these constraints, and secondly, if you're going up against then, then your agility as a startup is a huge advantage.
Is there a startup within the insurance or wider financial services space you, as a travel insurtech, think should be one to watch in 2020?
We've been big fans of Lemonade from day one. They're certainly not 'new' any more, and barely a startup because of their size. But, they're interesting because they're launching Pet insurance, their first major new product, and they're expanding in other countries. How well they manage to do with this, will be an important lesson for many InsurTechs.
If you would like to find out more about Pluto, please visit its Sønr profile, or you can check out its website.