Elad Tsur – Planck
Spøtlight : 5 min read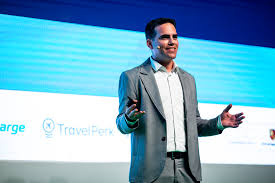 After a brief hiatus, we're back with another installment of our Spøtlight series. To mark our return, we stole a moment with Elad Tsur, who steers the ship at Planck, an AI-powered data platform for commercial insurance, a startup using AI and machine learning to improve underwriting speed and accuracy.
Since its inception in 2016, Planck has picked up $12M in funding from the likes of Arbor Ventures, Eight Roads, and Viola FinTech. Currently based in Tel-Aviv and New York, the firm is initially focusing its efforts on the U.S. market, where it has already launched pilot programs with several insurance carriers.
Hi there, can you tell us about yourself and what your company does?
My name is Elad Tsur, and I'm the co-founder and CEO of Planck, an AI-powered data platform for commercial insurance. My academic background and work experience are both in computer science, specializing in the artificial intelligence and data mining fields. Prior to launching Planck, I founded BlueTail, a data mining startup that was acquired by Salesforce, where it served as the base technology for Salesforce Einstein.

Where did the idea for Planck come from? What makes it unique?
I've been living and breathing insurance for as long as I can remember, as my father leads top Israeli insurance agencies. In that time, I've recognised that insurers use inaccurate and partial data to underwrite policies, but that the truth is out there in the open web.
Given mine and my co-founder's backgrounds, we decided to bridge the gap between the insurance market and the open-web world. We're using artificial intelligence and machine learning to mine the smallest bits of data about businesses, uncover the truth about any business, and provide insurance companies with actionable insurance insights.

What do you see as the most important qualities in a company's team?
My belief is that successful startups are mainly about the team and the opportunity size. For us, it was super important from day one to build a team of A-players with certain qualities:
(1) a challenger mentality, which is also one of the company's values;
(2) the ability to be a team player, to move people and lead through flat organisational structure;
(3) a willingness to take ownership and problem solve; and
(4) BITZUISTIM. That's a Hebrew word that doesn't translate well into English. Basically, it means doers, performers, and efficiently achieving goals in the best, most appropriate way.
There's been a lot of buzz around Israel, with people calling it a burgeoning tech hub. What do you think draws businesses to the country, and how do you see the tech scene developing over the coming years?
There are many qualities in the Israeli culture that foster a great entrepreneurship workforce and environment. I'll give you a personal story as an example: After the sale of my previous startup to Salesforce, a group of senior executives came to our office to see their new acquisition. They joined a technical planning session, and I, as the lead architect, explained the technical design to the forum of 50 developers.
Then, one of the junior developers barged in, said that I was wrong, and offered a different design.
The executives were amazed not only that I didn't fire him on the spot, but that I told him to lead the development of this module. I can't say why the Israeli culture is this way, but it is way more than simply pointing at the Israeli Defence Forces as the source. I would suggest to any person interested in it to read the book Startup Nation, by Dan Senor and Saul Singer.
Since being founded, you've secured partnerships with plenty of renowned global insurance and financial organisations. Can you tell me more about these and if you have more planned for 2019?
This is correct. Since we launched our AI-based data platform in the second half of 2018, we've received a lot of traction from U.S. carriers, including top ones. We have already announced partnerships with Berkshire Hathaway Guard Insurance Companies, American Financial Group's Republic Indemnity, Chubb, and dozens of other commercial carriers in different phases – all the way from pilot analysis to contracting.
Most of our customers will go to production with Planck, an AI-powered data platform, for various use-cases, including submission pre-fill, second opinion for underwriters, renewals, and risk exposure.
To date, Planck are raised $12M in funding, with your only financing coming from a Series A in July 2018. What was the money used for, and will you be announcing another funding round in the near future?
Since our last funding round, we at least tripled the company in every possible aspect. In addition to our engineering team's natural growth, we onboarded A-players and experienced tech and insurance people, and expanded our relationships and partnerships with major commercial carriers.
Our current exponential growth curve might require additional funding rounds to support it. We enjoy that fast ride and are not yet ready to slow down to linear growth. Thus, we will probably have another financing round in the next 12 months.
Name another venture within Israel's insurance ecosystem who inspires you. Why?
The insurtech ecosystem in Israel is great. I guess the first venture that comes to mind is Lemonade, which has its R&D centre just across the street from our office. But everybody is talking about them, so I'll pick a different venture.
There are many other great Israeli insurtech startups, such as VOOM Insurance, Sayata Labs, and Five Sigma, but I want to talk about Next Insurance and Hippo. Both started as MGAs (Next is now a fully-fledged carrier), and both developed their policy admin system and all other core insurance tech internally. Both have shown an amazing ability to execute on their premises, and both see great traction in their areas of operation.
I can safely say that Hippo understands home insurance, and Next understand contractor's insurance (as well as other SMB segments).
Could you give one piece of advice for aspiring startups looking to disrupt the insurance industry?
If I had to give one piece of advice to aspiring startups eyeing the insurance market, it is that this market is not a Taxicab stand; it can't be Uberized that easily.
Don't underestimate the complexity of the insurance operation or the depth and wisdom captured in the actuarial and underwriting domains.
Be humble, understand that you don't fully understand insurance, and focus on one thing that you excel at–and do it well. For example, we've focused on mining web data using AI to provide underwriting insights, and we're doing just that.
Finally, your go-to TV series right now?
Wow. I barely watch TV, as with the bit of free time I have away from work, I'd rather play with my kids or create cool, DIY gadgets with them.
For example, last week I built a "Harry Potter wand detector" with my son using a webcam and a deep learning model we trained together. Then, we connected it to the Scratch development studio, and he was able to code the "magic wand motions" from the movies himself. This is why I am very picky with the TV series I watch.
I just finished watching the last season of Game of Thrones (with mixed feelings about the ending), and before that, I watched House of Cards and Money Heist.
Want to find out more about Planck, an AI-powered data platform for commercial insurance.?