Dr. Itay Bengad – Sensa
Spøtlight : 8 min read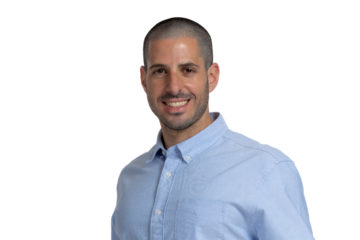 This week our Spøtlight is on Dr. Itay Bengad, CEO of Sensa, a proactive insurance company, and its parent company, MDgo, which has developed an Accident Detection & Response solution that autonomously sends detailed accident information to first responders and insurers within moments of a car crash – shifting the Moment of Truth to the loss event itself.

Hi Itay, could you tell us a little about yourself and your career leading up to MDgo and Sensa?
The technology powering Sensa was born in the Emergency Room. I am a trained medical doctor and was on duty in the emergency room when a friend of mine was rolled in on a stretcher after a serious car accident. He lay there while the expert medical team tried to treat him – struggling to quickly assess the locations of his injuries, the extent of the damage, and which issue to treat first. The lack of data and real-time assistance had severe repercussions. Watching my friend helplessly race against the clock, I knew that something had to change.
Car crashes kill over 42,000 Americans every year. But if first responders and doctors knew what injuries were present and what treatment to provide and when, more than 40% of those fatalities could be avoided. Together these factors inspired the birth of Sensa.

Can you introduce us to Sensa?
Sensa is the first proactive insurance company providing real-time, professional support 24/7, at no additional cost, with every policy. Our automotive insurance offering combines Sensa's proprietary sensor technology with support from our professional help center to provide all policyholders the right assistance in the immediate aftermath of a car accident – when they need it most. This professional, real-time support is at the heart of all our current and future offerings, including our upcoming home insurance policy.

What does it mean to be a proactive insurance company?
Proactive insurance means that unlike most insurance companies, who passively wait for a claim to be filed, Sensa doesn't wait for the policyholder to reach out before we take action. Our sensor technology detects a collision as it happens, analyses the damages and injuries in real-time and relays that information to our professional accident concierge team. By providing us this immediate view into the situation, our sensor enables us to act proactively, in real-time, rather than only when a claim is submitted.
People are at their most vulnerable during an accident, even a minor one. We support policyholders in these vulnerable moments, actively shifting the moment of truth from an after-the-fact payout to the loss event itself when help is most needed. While policyholders are generally left to sort out their own taxis, towing, rental cars, and more following an accident, Sensa's professional team manages every aspect of the crisis within minutes of the loss event beginning, at the scene, anytime date or night, helping to save lives and reduce damages.

Tell us more about the technology behind the sensor, from parent company MDgo? How does it detect a crash, and what happens immediately after impact?
Sensa is dedicated to privacy, so the sensor only activates during an accident. It awakens at the moment of impact and immediately sends anonymous acceleration data to our system. This data is analysed by our proprietary algorithm to determine the impact on both the vehicle and its occupants.
The algorithm was developed by a collaborative team of expert medical professionals, mechanical engineers, and data scientists. It allows us to create a detailed report and high-resolution map of bodily injuries and vehicle damages, which is immediately sent to Sensa's professional support team. Equipped with this knowledge, the support team acts to provide the best possible assistance. Some accidents require full-fledged EMS and a tow truck, while others may just need a calm, guiding presence to assist the driver while they are recovering from the shock of the accident. Due to this technology, we are able to offer our insurance policies at a more competitive price than most carriers, even while providing emergency services to every policyholder.

Why is it so important to shift the 'moment of truth' to the loss event itself?
Shifting the moment of truth makes all the difference to the experience of both the policyholder and the carrier. In their most stressful moments, policyholders are expected to somehow manage a loss event and then file a claim. But before they file a claim is really when they need our support most. In this moment of truth, Sensa provides professional support to help them deal with the incident in real time, ensuring that no one is ever alone at the scene of an accident.
The loss event is the only time when policyholders' and insurers' interests are aligned. Policyholders want someone to remove the hassle and burden of managing the aftermath, while insurers want to manage the event in the most efficient way possible. Our sensor provides real-time situational awareness that allows us to act during a loss event. By taking charge and managing all the processes following the loss incident as optimally as possible, Sensa acts to reduce damages in real time.

What have been some of your personal/company highlights over the last 12-months?
Last year, Sensa's technology was successfully beta tested in Europe among over 35,000 satisfied policyholders. Throughout this period, we proactively managed 94% of loss events within the first few minutes. We then conducted extensive US consumer research among 2,500 drivers nationwide, in which we found that 80% of consumers would be interested in our service if it were offered by their current insurer. The research also revealed that 62% of consumers were highly likely to switch to a new insurance provider to purchase our service, and 45% were very likely to switch even if the service were 10% more expensive (which it isn't). Then, in early January 2022, we launched Sensa in the US and began selling our auto insurance offering to our first American customers. It is currently available in Illinois and is expanding in the next few days to Ohio – and will be coming soon to Texas and Indiana in the next few weeks. We also announced our exciting partnership with Incline P&C group, with Acrisure Re as the appointed reinsurance broker on the transaction.

Sensa has just launched in the US – what are your plans for the rest of 2022? Any key targets or milestones?
Over the next few weeks and months, we will be expanding our auto insurance offering in the US. We will also be introducing new proactive insurance offerings, including home insurance, later this year.

What do you think your market will look like in 10 years? What are the coming opportunities and threats?
Most insurtechs compete over the ease of the claims process, but we don't think that's enough. We believe that in order to be successful in this industry, an insurance offering must either provide something new or offer the same product at a much more attractive cost, and carriers must move in this direction. Sensa plans to do both. We are pushing the industry forward by redefining an insurer's responsibilities and role in customers lives by providing proactive, real-time emergency support with every policy at a competitive price.
Over the coming years, insurtechs will also continue to struggle with the balance between privacy and innovations that produce user benefits. With consumers more privacy conscious than ever before, the insurer's need to access driving habits or other personal information erodes the consumer's motivation to adopt these revolutionary technologies. We have addressed this issue by ensuring our sensor doesn't track driving habits and awakens only at the moment of an accident, collecting only the anonymous data necessary to fuel the right assistance at the right time. We hope and expect to see more insurtechs increasingly address the issue through privacy-conscious innovation.

If you'd like to find out more about Sensa, please visit its Sønr profile, or you can check out its website. To find out more about MDgo's technology, you can check out their Sønr profile here, and their website.