Phil Zeidler – DeadHappy
Spøtlight : 5 min read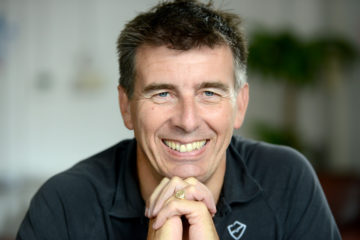 For this edition of Spøtlights, we've been talking with Phil Zeidler, Co-Founder and CEO of DeadHappy, the life insurance company encouraging people to die responsibly. Read on to find out more about their PAYG life insurance, Deathwishes and the DeadHappy's plans for the next 12-months.

Hi Phil, could you tell us about DeadHappy's mission?
Our Purpose is to Change attitudes to Death! Death is one of the last taboo subjects in our society and we think this is unhealthy. Because we avoid thinking or talking about it, many of us fail to plan for it. But the inescapable fact is we all die, and many if us 'before our time', and when we haven't planned for it, we leave the double whammy of grieving loved ones dealing with the emotional loss, and a financial and administrative mess, sending many families into financial ruin.
We can't solve dying, but we can solve the second part, so our Mission is to make thinking, talking and buying death related products easy, simple, cheap, thoughtful and to raise a smile along the way so fewer families suffer financial ruin.
Fact of the day: in the UK, 112 children (under 18's) lose a parent everyday – 50 of those will have failed to buy life insurance…

What prompted you to dive into the world of startups?
I have never really done Corporate. I started my first business aged 25, and this is my 4th, with some Chair and non-Exec roles along the way.

It only takes four questions to apply for DeadHappy's PAYG life insurance – how did you manage to create such a streamlined process?
Traditional term life is sold for a long term – an average of 23 years and is inflexible. But customers can't possibly know what their insurance needs will be in 10 years, let alone 23. So we developed a 10 year flexible term product where the customer can adjust both cover levels and increase term length each year. This has the added benefit that to 'onboard' a customer for just 10 years, the risk is much lower and you only need a few health questions.

DeadHappy stands out due to its humour and candidness around death, as well as its Deathwish platform, where users have the option to put their insurance towards anything from paying off the mortgage to sending something into space. Can you tell us a bit more about that, and the inspiration behind it?
When reconstructing the life insurance product, as insurance nerds we were delighted with the result. However we recognised that most millennials don't know or even care about the product to begin with. What they need is to understand what Life insurance is for. 
So we reframed the initial question from "How much cover do you want…" which no one really knows what that even means, to "What do you want to happen when you die?" which is after all what the product is there to facilitate. Then to help and inspire them to answer the question, we developed the Deathwish concept, which opens up people's imaginations to the wide range of things they can make happen for their loved ones. It reimagines the purpose of Life insurance to not just deal with the dull but import things like debts and funeral costs, but allows people to leave an extraordinary and very personal legacy through some amazing wishes, all paid for by the life insurance.

How has Covid-19 affected your business?
We have been relatively fortunate. The industry has seen a reduction in new business sales as the lockdown stopped all new house sales and mortgages for a while, a big trigger to buy life insurance, but we still saw substantial growth. As for operationally, as a true digital business with flexible working already established we didn't miss a beat.
The only area affected was our ability to meet with other business' to develop our partnership business' offering our product through other brands, but that's now firmly up and running.

DeadHappy kicked off 2021 with the announcement of Channel 4 Ventures media equity deal, which followed on from a highly successful crowdfunding round – what made you decide to go down the crowdfunding route?
We only wanted to do a small raise, and we felt that, as a consumer facing business, the crowdfunding route would bring us a large number of 'super users' that we could use as a sounding board to test new product ideas and campaigns, all of whom have a vested interest in our success!

What are your plans for the next 12-months? Any key targets you can share?
We remain very ambitious. We're finalising a revised insurance deal that improves our unit economics and then we have some big campaigns launching to accelerate our UK Growth in the direct business. We are also launching a new extended term product (but retaining our the flexibility and pricing advantage) and expect to announce some major new distribution partnerships through our white labelled arm.

What do you think the market will look like in 10 years? What are the coming opportunities and threats?
I expect the regulator to look carefully at the lack of flexibility and fixed term pricing in the market, both features unique to Life insurance that do not appear to Treat Customers Fairly, and this may drive a major change to how life insurance is distributed. My biggest wish is that we have made a dent in the 8.5 million people who don't currently have protection products but do have families or liabilities.

And finally, can you share another insurtech you're a particular fan of, and why?
Very hard to choose one! At the risk of offending others, I would say Bought By Many is up there. The way Stephen and the team launched a concept, learned about their market, and focused in on their biggest opportunity pivoting their model significantly takes foresight, clear decision making and not a little bravery.


If you'd like to find out more about DeadHappy, please visit its Sønr profile, or you can check out its website.