Grace Park – DocDoc
Spøtlight : 5 min read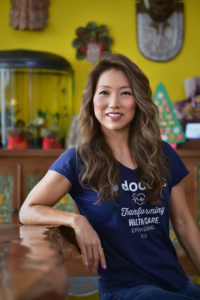 This week we're welcoming Grace Park, Co-Founder and President of DocDoc, Asia's largest healthcare network enabling patients to make data-informed decisions. Grace shares the deeply personal journey that led to the launch of DocDoc, as well as insight into how the company is meeting healthcare needs in Southeast Asia.

Hi Grace, could you tell us a little about yourself, and your background prior to DocDoc.
My family and upbringing epitomises the 'American Dream' – my parents who emigrated to the United States from Korea, where they had survived the Korean War, were humble yet hopeful to work diligently and provide my siblings and me an opportunity for a better life.
Inspired by an American hero in the Korean War, General Douglas McArthur, who graduated from the United States Military Academy at West Point, I graduated from the same alma mater and proudly served as a United States Army officer.
Embarking on fresh challenges in the private healthcare sector, I joined Fortune 500 global companies such as Bristol-Myers Squibb and Medtronic with the mission to expand and enhance human lives. I was fortunate to hold leadership positions at Medtronic, most recently as the Managing Director for its ASEAN operations.

What led you to launch DocDoc?
The purpose behind what DocDoc is today stems from a deeply personal experience. My daughter was born healthy but at her third month check-up, she looked jaundiced. After a battery of tests, a room full of surgeons broke the news that our little girl's liver was failing and we needed to admit her into the hospital immediately for a surgery to hopefully delay the inevitable liver transplant.
Despite several attempts at fact finding, we were not able to collect the information we needed to understand if the team that had made the initial diagnosis was the right medical team to perform the procedure. Eventually, through our personal network, we found our surgeon. He and his team had successfully conducted the highest number of liver transplants in the world and was surprisingly 60% less expensive compared to the initial team's quote.
Due to the lack of transparency in healthcare, patients depend on anecdotes rather than meaningful data points to make sound decisions. When my husband Cole, who is also DocDoc's CEO and Co-founder, was recovering in the ICU after donating a piece of his liver to our daughter, it became clear what DocDoc needed to be..
Thanks to the expertise of the medical team, the 15 hour long operation was a huge success. We recognised that we were lucky but healthcare shouldn't have to depend on luck. DocDoc became the service we never had – empowering patients to find the right care based on their unique needs.

What are the key issues that DocDoc is addressing in health right now, and how are you meeting those challenges?
In Southeast Asia, healthcare expenditure is rising faster than the region's GDP. Uncontrolled medical inflation will bankrupt families, employers, insurers, and governments alike. The healthcare financing burden will be further amplified by a rapidly aging population and rampant rise in chronic diseases.
Perhaps the most interesting bit of the puzzle and one that's easily overlooked is the lack of correlation between healthcare quality and price. Unlike most sectors, in healthcare, paying more doesn't necessarily guarantee better care. Conversely, it is possible to receive high quality care without breaking the bank.
The root cause of this is widespread information asymmetry between patients and healthcare providers. For example, as a patient, it is extremely difficult to find information regarding medical prices or a doctor's medical expertise in treating a specific condition or performing a procedure. This leads to suboptimal decision making. Patients often choose grey-haired doctors and/or those with excellent bed-side manners, assuming these indicators correlate with higher expertise and better predicted outcomes. Unfortunately, it does not.
While healthcare expenditure is a massive burden for most individuals, the region is also underprotected as evidenced by the low insurance penetration rates. Simply put, Southeast Asia is in desperate need for innovative healthcare solutions that can expand access to high quality care and lower rising healthcare costs.
At DocDoc, we partner with insurers, brokers, employers, and governments to deliver value-added solutions to their policyholders, employees, and residents respectively. Insurers today are looking to provide a differentiated product which can vastly improve the policyholders' healthcare journey, significantly reduce medical care costs and improve medical complications and readmissions rates. DocDoc helps them achieve just that.
By combining the power of artificial intelligence with human expertise, DocDoc helps patients make informed healthcare decisions. Through our product suite of AI-powered doctor discovery, telemedicine, and cashless settlements, we empower patients to find the highest quality healthcare based on their unique medical needs.

DocDoc aims to give patients control of their healthcare decisions, but it also importantly has created an end-to-end data loop involving everyone in the health ecosystem, from insurers to physicians. Your partnership late last year with SpesNet is a great example of this. Can you tell us a little more about this, and highlight some of the benefits of this?
In 2020, we partnered with SpesNet Group to integrate its fully digital TPA technology and provide a first-of-its-kind complete digital health ecosystem to insurers, supporting their policyholders through the continuum of care. The partnership also allowed us to enhance our offerings for cashless services, as well as seamless claims processing to payers, including insurance companies, brokers, employers, and bancassurance partners across Asia and beyond.
The claims data processed from the digital TPA feeds back into DocDoc's HOPE algorithms that are designed to improve quality of care and reduce costs.
This self-reinforcing data loop enables us to learn from every interaction among policyholders, healthcare providers, and payers and help insurers and the industry at large to better understand medical trends, identify and define risk categorisation, develop treatment opportunities for at risk populations, tackle medical inflation, as well as improve upon the overall delivery of care.

How has Covid-19 impacted DocDoc? Both in terms of customers wants and needs, and also, behind-the-scenes for you and your team?
Digital transformation efforts in the insurance industry were significantly fast tracked. The pandemic laid bare the limitations of the current state of the industry. Insurers, employers, brokers, and healthcare providers quickly recognised the importance of a scalable and secure digital health platform (like that of DocDoc) in meeting changing customer needs.
The pandemic also put a spotlight on digital health. Conversations related to the benefits of digital health were featured front and centre across all media outlets, generating greater awareness worldwide.
As a digitally native company, we were fortunate to be well set up for remote work. We had the necessary systems and processes in place. When Covid struck, we trusted our employees to leverage these and continue to deliver on their KPIs. As a result, we didn't skip a beat.
Black swan events such as the Covid-19 pandemic permanently alter the trajectory of industries and companies. Today, the bigger question is how are we going to leverage this unique opportunity and harness technology to build back a better and more resilient healthcare and insurance ecosystem.

What are your plans for the next 12-months? Any key targets or milestones you can share with us?
Moving forward, we are striving to make patient empowerment through data a norm rather than an option. Patients are tired of being force-fed healthcare and feeling helpless in their own healthcare decisions. We want to change this.
In addition, there is an opportunity to look at how we can partner with reinsurers down the line. This is similar to the approach taken by the likes of Lemonade, Wefox, and Oscar Health in the US and Europe. We observe that the market is reacting very favourably to this model.
Ultimately, our goal is to get the genie out of the bottle. Once everyone realises that there is a better way to consume healthcare, they are never going to go back to the status quo.

We often hear talk in the industry of corporates innovating too slowly, or taking part in 'performative innovation' – however the opportunity in this space has never been better; the insurance penetration rate (premiums as a % of GDP) in 2019 for non-life business was less than 1% in Indonesia, Philippines, and Vietnam. What are the key factors that enable a culture of innovation?
A combination of legacy mindsets, legacy systems, and organisational inertia in insurance companies has led to systematic underinvestment in organic and partnership-driven innovation. As the Economist points out, no insurer ranks among the world's top 1,000 public companies by amount invested in R&D.
Typically, in large corporates, especially public listed companies, the C-suite's inability to forego short term profits for long term gains is what often kills innovation. In extreme cases, it can lead to their ultimate destruction, similar to the case of Kodak.
Setting up innovation labs that have limited ability to contract with or impact the operational workflow of the parent company usually has limited impact beyond media fanfare.
In the future, all companies, including insurers, will be tech companies, with expertise in niche areas such as actuarial science. These companies require a different mix of talent and company culture than today's incumbents. These teams should consist of not only actuaries but employees who are experienced in building and scaling digital products.
In this aspect, insurtechs have a key advantage over traditional players. Domain expertise in tandem with nimble operational structures provide them a leg up over incumbents. This is further enabled by flat hierarchies and a culture which provides the freedom to experiment, fail, learn, and repeat.

What do you think the market will look like in 10 years? What are the coming opportunities and threats?
Health and life insurers will inevitably play a bigger role in personalising the healthcare experience of their policyholders, shifting from a claims payer model to a prevent and protect model.
With consumer expectations and needs shifting, a new generation of insurtech companies are recognising the potential of leveraging new data sets to create a far superior product compared to those currently provided by incumbents.
While most insurtech innovation to date has been focused on distribution and the customer experience, the next wave of landmark companies will come from deeper down the tech stack. An overwhelming number of insurance professionals (88%) believe that legacy systems are preventing them from transforming quickly enough. The market is reacting favourably to the rise of full-stack insurtechs (or neo insurers), who are not restricted by the limitations of traditional legacy systems. This phenomenon is already playing out in the US and Europe and will most likely take shape in Asia over the next 12-24 months.
The Southeast Asian insurance industry is at a crossroads. On one hand, the market is set to grow rapidly. On the other, the benefits of that growth will only anew to the organisations that modernise their value propositions. The opportunity for innovation in insurance has never been bigger. Whether it will be capitalised by incumbents or new age full-stack insurtechs will depend on the actions taken by the incumbents in the next few years.


If you'd like to find out more about DocDoc, please visit its Sønr profile, or you can check out its website.

Sources and further reading provided by DocDoc:
The Case for Default Insurance
The Future of Insurance is Happening without Insurance Firms
59% of Insurance are Increasing Digital Transformation Spending