Mark Wales – Galileo Platforms
Spøtlight : 5 min read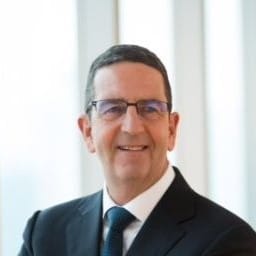 On this week's Spøtlight, we spoke with Mark Wales, co-founder and CEO of Galileo Platforms, a Hong Kong-based InsurTech using smart contracts to augment traditional policy administration processes.
Founded in 2016, the startup recently secured $2m in a Series A round led by Greenlight Re's innovation arm, with Greenlight believing blockchain to be the future of insurance distribution.
Hi Mark, could you tell us a little about yourself and what Galileo does?
I am the CEO and Co-Founder of Galileo Platforms. Galileo Platforms is a B2B technology company servicing the insurance sector.
Fundamentally, we are taking the functionality found in traditional policy administration systems and encoding this using smart contracts on a blockchain. This covers the entire business life-cycle including quotations, purchase, client servicing, renewal and claims. This creates a shared source of truth for all of the participants in the insurance eco-system including distributors, insurers, reinsurers and health providers. It eliminates the duplication and reconciliations and enables everyone to transact in real time.
Where did the idea for the startup come from and what makes it unique?
Galileo Platforms was founded 2.5 years ago when enterprise blockchain solutions were first emerging. We believed the technology had the potential to transform and streamline the industry. Part of what makes us unique is we don't have a token and we haven't done an ICO. We are about the power of smart contracts and their ability to represent the information and behaviours of the different industry elements including the parties, products, policies and claims.
What do you see as the most important qualities in a company's team?
We have a balance of business and IT skills, and a depth of management experience. At the helm are seasoned executives who have a combined 90 years of experience in wealth management, insurance and IT. Transforming an industry as complex as insurance needs people with experience who understand its problems and know how to change it. Our team brings the right mix of business and IT skills to achieve this.
Is there a particular new venture within the insurance ecosystem who inspires you?
I'm inspired by the companies working in micro-insurance. This truly has the opportunity to transform people's lives and protect their families. It's an area we are actively looking to service. Our low-cost IT and operating models enable products to be viable at very small premium levels.
You recently secured $2M in Series A funding. What do you plan to use the fresh financing for?
We're already putting the investment to work. We're increasing the size of the development team to finish construction of the product, so we can be in production with our first customers in Q1 2019. This increased size and financial stability has been important to gaining the confidence of our customers to implement our solution.
There's a lot of scepticism surrounding the increased application of blockchain, with people thinking it will be expensive to not only build but maintain. How do you see the technology developing over the next 5-10 years?
Our experience is different. We're not finding this to be an expensive technology to develop or maintain. We have been building our solution for 2 years and construction has been much faster than many traditional technologies. Blockchains give you a database, an operating system for executing transactions and event-driven business process management. You don't need to work across multiple technologies.
We have also taken steps to eliminate the overheads found in many blockchain technologies (such as gas in Ethereum) and use fast consensus mechanisms to enable real-time transactions. We believe this will only improve over the coming years.
Collectively, you and your fellow cofounders are well-versed in the Asia-Pacific market. Are you considering expanding into new continents in the near future?
We're focused on Asia as our initial market, but we plan to expand traditional policy administration processes to other markets in the future. Our Series A funding round was led by Greenlight Reinsurance whose primary markets are North America and Europe. They are strategic investors looking to help us grow and enter new markets. We're also looking at opportunities in Australia.
In interviews, you've expressed interest in partnering with disruptive startups and insurance incumbents alike. Can you give us any details on potential partnerships?
One example is health insurance. This is an area where we are working with other start-ups who have access to networks of medical service providers. We are looking to connect them to networks of insurers to automate claims policy administration processing.
If you had to give one piece of advice for aspiring startups looking to disrupt the insurance industry, what would it be?
Insurance is a highly regulated industry. If you want to provide products or advice, you need to be regulated. This comes with requirements for capital, and licensed staff. It's often easier to work with the incumbents, many of whom are looking for partners to help them transform and adopt new ways of operating.
If you would like to find out more about Galileo Platforms, please visit its Sønr profile, or you can check out its website.