Rob Faulkner – Software Solved
Spøtlight : 7 min read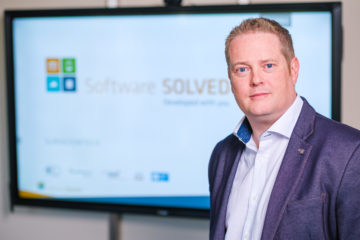 This week we've been chatting with Rob Faulkner of Software Solved. Software Solved are about to launch SurveyorTech Connect, a live streaming service enabling brokers, providers, risk consultants and more to capture property surveys remotely via an iPad or iPhone.
Hi Rob, could you tell us a little about yourself and Software Solved?
I've worked in the Insurance sector for over 23 years across Insurers, Brokers and Software organisations in a range of roles including sales, marketing and product.
I'd describe myself as an Insurance technician first (I'm a Chartered Insurance Practitioner) but I've always had a keen interest in technology, particularly InsurTech and all things digital which is why joining Software Solved in May 2019 to lead the Insurance Practice was a great fit.
Software Solved has been providing custom software and data solutions since 1998 and is based in Exeter in the UK. During that time, it has established a solid reputation in the Insurance sector having delivered solutions for some of the world's leading insurance organisations.
You're about to launch the pilot for your new SurveyorTech Connect live streaming service for the insurance market – could you introduce us to the new solution & how it will work?
SurveyorTech Connect is part of a broader SurveyorTech product enabling insurance brokers, insurance providers, risk consultants and claims professionals to capture comprehensive property surveys via an iPad or iPhone in either 360 degree or flat image mode.
As Insurance Professionals cannot currently visit client premises due to Covid-19 and thanks to funding awarded by Innovate UK, the UK's innovation agency, we are able to fast track the development of SurveyorTech Connect which will enable property surveys to be undertaken remotely through a live streaming function.
In summary, the Insurance professional will provide their client with a link to the SurveyorTech Connect App which will be used to deliver a secure, private, live stream in conjunction with the SurveyorTech portal. All the client will need to do, whilst using the App, is point their mobile camera at what the insurance professional would like to survey.
The insurance professional will see what the client sees in the secure SurveyorTech portal and will be able to record the session, taken still images and record notes throughout the session. At the end of the live stream a completed survey with sharing code that allows others to view the survey can be generated.
We have had strong interest from the Industry and continue to accept requests to join the pilot during June with the expectation the pilot will start in early July, those taking part in the pilot will receive a period of free usage.
Now more than ever insurers are focusing on their digitisation strategies. Can you share some of the other ways Software Solved's Insurance Practice is helping Insurance businesses innovate?
Much of the insurance sector are early on in their digital transformation journey and can often seem like a daunting task. Our focus is to help support and guide organisations to identify and implement software and data projects that see them thrive in a competitive space.
Whether it be auditing and establishing data or software maturity levels and subsequently identifying and delivering key projects or, exploring machine learning, AI and automation and turning possibilities in to realities we will help ensure a methodical approach is taken.
Last year it was announced you'd be working with insurers and the University of Plymouth as part of a two-year research programme, funded by Innovate UK, that uses machine learning to enhance forecasting risk. Can you tell us more about that and how that is going?
The team have made good progress and have been able to predict risk scores using a number of data sources with a reasonable degree of accuracy.
Data sources have been built that enable us to understand in real time the things that impact a risk in a specific location such as proximity to water courses, high-risk property or installations, distance to the fire brigade and police.
We also plan to integrate this data into SurveyorTech to provide our insurance clients with the ability to profile their client's business risks quickly and in real time within the SurveyorTech portal.
What are some of your expectations and hopes for SurveyorTech and Software Solved's Insurance Practice this year?
I expect our SurveyorTech offering including live video streaming, 360° virtual property surveys, and newer features to be live in the global insurance market and in use within insurance broking, underwriting, risk consulting, and claims organizations. 
I also anticipate SurveyorTech will have extended its reach further than insurance into other sectors where surveying is a component of the service propositions such as real estate, engineering and Health and Safety.
In terms of the Insurance Practice I want to continue to grow this in our core consultancy areas (custom software and data) and build on our ability to support insurance organisations of all sizes to grow, thrive and compete through digital transformation.
I also see the Insurance Practice identifying challenges within the insurance market that could be solved with a new InsurTech product and delivering this to the market in a cost-effective way either as a standalone product or as an Integration into existing software systems.
What is your view on the current state of the market? What are some of the opportunities and threats you think Covid-19 has presented the industry?
The Insurance market was already going through a phase of hardening prior to Covid-19. Clearly the global pandemic has impacted both the economy and the insurance industry which will only cause further hardening of the market.
The hardening market will accelerate the need for insurance providers to enhance their technological and digital capabilities to improve operational efficiency and maximise the short period of profitable growth that a hard market can provide.
Insurance providers will have a growing backlog of property surveys as a result of lock-down and social distancing combined with the continued added pressure to survey more risks.  The only way through this backlog whilst lockdown measures remain in place is to use a combination of data, remote surveying, and technology such as SurveyorTech Connect.
The broker market will need to embrace new technologies to differentiate themselves from the competition and provide better data to the Insurance market to enable them to secure the best possible terms for their clients and provide some future resilience.
To help de-risk future pandemics for the insurance market and also to reduce expenses and our carbon footprint, live streaming, in my view, needs to become a mainstream tool used in collaboration across broking, underwriting, risk consulting and claims.
If you had to give one piece of advice for aspiring startups looking to disrupt the insurance industry, what would it be?
Stop thinking about trying to disrupt the industry, think about how technology can be used to make the impossible possible or, substantially transform current ways of working.
Finally, is there another business within the insurance or wider financial services space you find really exciting? What makes them one to watch?
One of our SurveyorTech early adopters is an InsurTech start-up called Hubb, a tech-driven insurance broker and risk management platform for mid-market and growing small businesses.
Hubb's aim is to make the entire broking process simpler, more efficient and transparent for the client using advanced technology such as SurveyorTech, Machine Learning, AI and automation combined with big data to remotely advise and manage their client's insurance portfolio's and associated risks.
They are pretty unique and certainly one to watch.
If you would like to find out more about Software Solved, please visit its Sønr profile, or you can check out its website.