Ben Rose – Riskbook
Spøtlight : 7 min read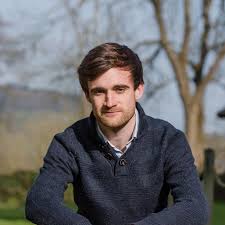 In our latest Spøtlight of the series, team Sønr chatted to Ben Rose, who co-founded Riskbook alongside CEO Jerad Leigh and CTO Jezen Thomas, as their beta product gets ready to launch.
Riskbook is an online platform that makes it easy for brokers to market risks to a global audience of underwriters, in turn enabling them to search and filter for risks that best match their needs.
Hi Ben, can you tell us a little about yourself and your company Riskbook?
Riskbook is the first independent, hyperconnected reinsurance marketplace for efficient matching of risk and capital. We supercharge placements by making it easy for brokers to market risks to a worldwide audience of underwriters, who in turn can search and filter for risks that support their growth and diversification goals.
I grew up in the first hyperconnected generation. Like all my friends I had a digital twin as a teenager: we'd group chat after school on MSN, organise parties as Facebook events and buy things through online marketplaces like Amazon and eBay. I learned of the world through Google and Wikipedia, heard its music through iTunes and Spotify and consumed its content through YouTube and Netflix. The magic of hyperconnectivity lies in its ability to empower individuals to access to thousands of other users, wherever they are; with similar interests, something they want to share, or a product or service they want to buy or sell.
Hyperconnectivity has become a lifestyle for those of us who search for flats through Rightmove and Zoopla, find hotels that meet our needs on Booking.com and seek out soulmates on eHarmony. You can find my car on Turo and I'd probably let you borrow my dog on BorrowMyDoggy (if I had one). Through many-to-many digital interactions, hyperconnected processes are faster and more efficient: the user experience also tends to be pretty slick, creates great data and vastly improves choice for matchmaking. It's less buzzwordy than AI and blockchain, but it's created way more unicorns.
Yet the $200bn global reinsurance marketplace remains reliant on personal networks, refreshed once a year at expensive conferences. This presents challenges to brokers trying to secure the best capacity for their clients and for underwriters looking to grow and diversify their portfolio. Enter Riskbook.
Where did the idea for Riskbook come from? What are your hopes for the business now and as you move forward from open beta?
In 2013, I came to Lloyd's and learned traditional means of matching risk with capital: one-to-one interactions, not many-to-many. Paper, paper and more paper. What surprised me the most was the way in which underwriters spent so much time sitting and waiting for risks to be brought to them. Was there no way they could search for them online? Get brokers to post the information somewhere? I was fortunate to spend time in the Strategy team with a mandate to reimagine the market in innovative ways (my earliest suggestion was a sort of Tinder for risk). I then worked on early sketches of the Lloyd's Index, before Brexit put that to the side.
In 2015, I trained as a reinsurance underwriter with a syndicate, where the lack of hyperconnectivity became even more visible. Document-sharing meant physical delivery of heavy submissions and lengthy contracts (all manually scanned by yours truly). There was no digital platform for sharing risk documents and data: broker and underwriter solutions for reinsurance were fragmented if they existed at all. For underwriters, getting to a real-time view of the portfolio meant curating a spreadsheet until the contract had been bound and manually rekeyed by an outsourced team weeks later.
I would love to say that things have changed.
Having become intimate (and frustrated) with every pain point in the underwriting process, I reflected on how much more effective that process could be. If we can build digital profiles for a product and market it to a global audience of buyers, surely brokers could do the same for risks? And if we compare a risk opportunity that needs many subscribers to an event that needs many guests: would you in today's world speak to each of them individually? I posit that no, you would use a Facebook event or a Whatsapp group. Reimagined in other industries, these sites become like digital deal rooms, from within which you can track comments and negotiate conditions for that event simultaneously across all of your counterparties (with individual chat functionality for any private discussions).
These thoughts, embodied in an early Riskbook concept, won an innovation prize at the Dive-In Festival 2016. Perhaps more importantly, they led to a eureka moment for Jerad. Now Riskbook's CEO, Jerad had at the time been directly experiencing the administrative nightmare of coordinating a thirty-strong reinsurance panel as a broker for Japanese reinsurance clients. Email, alas, is not an inefficient tool for herding cats. Together, we honed the Riskbook concept into a reinsurance-focused vision – a market usually too niche for technopreneurs to get close to – and began to build a team and a product. Now, we're watching our vision become a reality as our beta product gets ready to launch. Through a sandbox of fake risks, we're working closely with our beta community to optimise the reinsurance placing experience, whilst at the same time unlocking the awesome power of hyperconnectivity for brokers and underwriters.
"Riskbook is the first independent, hyperconnected reinsurance marketplace for efficient matching of risk and capital."

Ben Rose
What do you see as the most important qualities to look for when building a startup's team?
We love that as a global technology start-up we can focus on finding the best talent, whoever they are and wherever they are in the world. We operate an incredibly lean, distributed team of experts without the expense of offices and recruiters. We are fortunate that Haskell and Elm, the building blocks of Riskbook, are highly in vogue with cutting-edge developers and computer scientists coming out of academia, and have a healthy pipeline of talent queuing up to join our mission.
At the same time, we're cognisant that as founders and early team members it's down to us to demonstrate our values from day one. As our CTO Jezen always tells us, build it right the first time: your MVP always ends up becoming the basis of your final product, and culture is no different. With our small scale it's difficult for us to mirror the diversity of our global client base, but in building our team we have sought out creative, open-minded professionals with the experience of working in different cultures. Aligned to our mission, our team has the empathy to genuinely focus all its energy on improving the lives of reinsurance brokers and underwriters.
Earlier this year Riskbook was announced as the European winner of ACORD InsurTech Innovation Challenge, securing a place at the global finals in October – congratulations! Can you tell us a little more about why you entered the competition, and what the experience was like?
Reinsurance is fundamentally a global business and we're a start-up with ambitions to serve brokers and underwriters all over the world. For us, the ACORD InsurTech Innovation Challenge represented a fantastic opportunity to earn the ultimate seal of approval from a globally recognised standards body.
The competition was a great experience, with insightful and meticulous judges who raised some excellent questions. Seeing the strength of our competitors (and the millions some had gone on to raise) inspired us to give it our best shot. Fortunately, the judges saw the huge potential of what we had been building and put us in front of a larger Digital Minds audience, amongst whom the excitement was palpable.
With both of the other two semi-finals taking place in the US, Riskbook is representing not just Europe but the entire world ex-US in the Finals – we'll aim to do you all proud!
Both you and CEO Jerad Leigh respectively spent several years working for large brokers and reinsurers – what made you decide to jump into the world of startups and leave corporate life? What have been some of the most interesting changes?
Once we'd landed on the Riskbook concept, Jerad and I realised we would need to go 'back to school' if we were to build it into a successful business. Bringing our re/insurance and strategy experience, we enlisted as mentors at Startupbootcamp and learned as much as we could from osmosis and the reverse mentoring we experienced. We attended countless technology Meetup groups and InsTech London events, went through the YCombinator start-up school and read every book we could find on lean development and the platform revolution.
It was while Jerad was helping me to train for my first marathon (and his tenth!) that we realised we had an answer to every challenge that could have dissuaded us from pursuing our dream. Our conviction compounded upon meeting Jezen – now our exceptional CTO and co-founder – whose capability and speed to production were awe-inspiring. We realised, not despite our corporate reinsurance experience, but because of it, that we were at the start of a potentially game-changing moment for the industry.
It was a really tough decision to put our careers to one side as we both had prominent reinsurance innovation roles that we genuinely loved. But the result has been formidable: when your bandwidth is 100%, you are constantly speaking with your development team on Slack and you have one, clear mission with no gatekeepers, you can really feel the magic happening. Hyperconnected reinsurance is the future and we're going to deliver it.
Having become intimate (and frustrated) with every pain point in the underwriting process, I reflected on how much more effective that process could be. If we can build digital profiles for a product and market it to a global audience of buyers, surely brokers could do the same for risks?

Ben Rose
Is there another new venture within the insurance ecosystem which inspires you? Why?
We've found endless inspiration in hyperconnected marketplaces that dramatically scale distribution to efficiently match demand with best supply. We're the first to bring this matchmaking capability to reinsurance, but we've seen it applied effectively elsewhere in InsurTech: Honk in the US matches people who breakdown with a nearby truck owner, WeGoLook connects loss adjustors with insureds needing to make a claim and – with the UK being ground zero for comparison sites – we have countless examples to draw upon.
That said, there's a reason we've been called the Rightmove of Reinsurance and not GoCompareRe. As with home buying and renting, a reinsurance transaction has sizeable, long-term implications for both parties and brokers play a critical role. Like Rightmove, Riskbook creates hyperconnected intermediaries so that you can trust your agent is going beyond their personal relationships to get you the widest possible audience of potential capital. Hyperconnectivity didn't just create huge value for demand, supply and distribution in the housing market – it made Rightmove and Zoopla flagship UK unicorns. We'll do our best to follow suit in reinsurance.
As mentioned, you've spent time as a Mentor for Startupbootcamp – what's your go-to piece of advice for aspiring startups looking to disrupt the insurance industry?
I'm from a strategy background. For me the proposition (the 'Why?') is the most important part of start-up pitches, not the product (the 'What') or the technology (the 'How'). From the corporate side, I've been most impressed by convincing before and after stories, where a real problem is solved or a meaningful opportunity is created. Now that the initial disruptophopia has passed, the old buzzwords have far less door-opening potential.
Finally, Elon Musk has created a stir recently by announcing his new Neuralink project. Is there a new kind of innovation or technology outside the insurance industry that you are particularly excited about?
I'm fascinated by the parallels InsurTech can find in VeganTech – from the Gregg's sausage roll to Beyond Meat's burgers – despite having only managed flexitarian status myself. As with insurance, shifting customer expectations are compelling the food industry to take a good, hard look at its supply chains, leading to investment in affordable and efficient alternatives. And, much like the InsurTech movement, we're seeing foodie communities around the world unite to reimagine the industry's proposition for the next generation.
To learn more about Riskbook, check out their profile.