Samuel Falmagne – Akur8
Spøtlight : 9 min read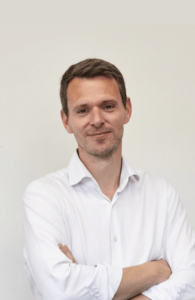 This week our Spøtlight is on Samuel Falmagne, Co-Founder and CEO of Akur8. We chat about the importance of diversity within a team, their Transparent AI technology, and Akur8's growth plans over the next 12-months.

Hi Samuel, could you tell us a little about yourself, and what led to the founding of Akur8?
Akur8 is my first venture as a co-founder and CEO. Yet my passion for the transformation of insurance processes was born earlier. I started my career at IBM where I held various international sales and sales management positions over 15 years. I then joined Shift Technology, a very successful insurtech – now a unicorn, as Head of Sales. Shift focuses on AI-based transformation of insurance fraud detection and claims processes. This is how I discovered the value that insurers can get from leveraging AI to automate key processes that are still largely manual. When I met Guillaume Beraud-Sudreau, co-founder and Chief Actuary at Akur8, who had been exploring the potential of machine learning to automate the insurance pricing process, we clicked and started the Akur8 adventure together. Akur8 is the result of a strong business conviction, a game-changing product, and an inspiring encounter!

Can you tell us more about Akur8 and its Transparent AI technology that enables it?
Akur8's mission is simple: we empower actuaries and pricing teams to make better decisions, faster. We do so by automating manual data-driven processes, while maintaining full transparency and interpretability of the models created. Akur8 is a cloud-based, ML solution, powered by unique Transparent AI, that is setting a new standard for insurance pricing.
Akur8's journey began with a team of Actuaries and Data Scientists, led by Guillaume Beraud-Sudreau, working at a large insurance carrier in France. Frustrated with the outdated software used by actuarial teams (and still used by most teams today) and the lack of innovation in this space, they set out to transform actuarial pricing.
They were convinced that machine learning held game changing potential to revolutionize insurance rate making, as it is an iterative process, largely manual, and heavily data driven. The tools that actuaries use are often legacy pricing solutions that are manual and extremely time-consuming, slowing down the entire pricing cycle, which is costly.
Yet as far as AI application is concerned, pricing is trickier than most other insurance processes. Indeed, while Machine Learning technology is applicable across most insurance processes, pricing is framed by very specific transparency requirements, both for regulatory compliance and to avoid exposing insurers to certain business risks, such as adverse selection. Most traditional Machine Learning technologies are by nature 'blackbox': they allow for speed and predictive performance, but they can sacrifice interpretability. This barrier makes most Machine Learning solutions not ready to be used in production.
Akur8's initial team invested 4 years in R&D, to develop proprietary algorithms, that uniquely combine transparency with Machine Learning automation. Akur8's 'Transparent AI' is the only technology in the market combining the best of two worlds – actuarial science and data science – automating the generation of pricing models in a fully transparent way and making them safe and compliant with regulatory constraints.
This is how Akur8 was born!

Akur8 has a really diverse team – a bit of a rarity in the insurance sector. Is this something you've consciously had in mind from the beginning, and how do you think it has shaped the growth of the company?
The team is currently 65 people across 3 offices, Paris, London and New York – and counting! We are very proud of the team we have built at Akur8, especially from an inclusivity point of view. The Akur8 team is very international and diverse, with 65 people (predominantly technical profiles, data scientists, actuaries and developers) from 25 countries, speaking close to 20 languages. Building a diverse team has been a deliberate focus from the beginning. We wanted it to be part of Akur8's DNA and and culture from the start and we felt like we had to be proactive in making it happen.
There are business advantages of course, as most of the time, we manage to speak to clients and prospects in their native language. But mostly, it has a huge value for the company in terms of variety of points of view, approaches and ideas and we are immensely lucky to be supported by this amazing talent pool.

What are your top tips for forming a culture of innovation within a company?
I'm happy to share what I think makes Akur8 an innovative company, it's more pragmatic than theoretical but I believe it truly sets us apart.
By essence, we were born from a tech innovation. When your product required 4 years of R&D, innovation is part of your DNA!
We like to say that we challenge the unbearable status quo. It is actually one of our values! Meaning that we don't innovate for the sake of innovation, but we bring game changing value to insurers, to transform a process that is so manual, iterative and inefficient, that it is unbearable to stick to legacy solutions. I think that the notion of the value delivered by the innovation, beyond the innovation itself, is key
The diversity of the team we have built is clearly a great facilitator of innovation, as the multi-faceted approaches to tech, product or commercial challenges brings the best solutions. Whenever we have a cross-team workshop, the results are always as impressive as they were unpredictable because everyone brings their own unique voice
Finally, our standpoint has always been that of our client. Our actuaries and data scientists put themselves in our client's shoes when they think about the product and its features. They take all the feedback they can from the users of the platform – we are actually in real-time contact with them via our chat support – to think about the next step for the solution
As company CEO, there are also a few convictions that I live by around the value of a collaborative culture. One of them is that at Akur8, every employee is a shareholder. This is because we want every employee to feel like Akur8 is their company, and their voice matters, no matter their role or seniority within the company

How did Covid affect your business?
What we have seen from our standpoint is that Covid has accelerated some already-existing trends and challenges the insurance industry is facing. Insurers have been under increasing pressure from neo-insurers, whether in terms of price competition or customer centricity standards.
After the first weeks of adjustment to lockdown, what we have witnessed at Akur8 is an acceleration in the adoption of technology within insurance companies. I'm not talking for tests or pilots, but really in production, at scale. The Covid crisis has increased the interest of insurers for new solutions like Akur8, that embrace the new basics of working (cloud-based, natively collaborative, transparence and easy in terms of internal governance) while delivering tremendous business value.

Akur8's has worked with a huge number of insurers from around the world over the last 12 months alone – VIG Poland, Wakam, Wefox, Munich Re, Matmut, Generali, AXA Spain to name a few. Is there one partnership in particular that you are really proud of/excited about? Why?
Indeed, adoption has been great! We're humbled by the enthusiasm of insurers that have tested and implemented Akur8. The benefits in terms of speed, performance and transparency across the pricing cycle are usually palpable in a matter of days, with accelerated time-to-market, increased productivity and agility of the pricing teams, and down the road, economic gains both on top and bottom line.
We work with over 30 leading insurance carriers globally, including all the ones that you mentioned, and many more that are not public references. Yet I wouldn't say that there is one partnership we are most excited about, as truly, what we are most excited about is the diversity of our clients, whether in terms of geography (we have clients in a dozen countries over 3 continents), size (we work with insurers of all sizes) and lines. Our clients use Akur8 across P&C and health, for personal, commercial and specialty lines. 350 actuaries use Akur8 daily to build their pricing models and that's what makes us proud. Our current focus is on the US and we really hope to add US insurers to our list of partners very soon!

You announced a $30m Series B funding round in June, just 15 months after your Series A – congrats! What will you use the latest funding for?
We closed our $30 million series B mid-2021, bringing our total financing to date to $42 million. The B round was led by new financial investors, with previous investors (BlackFin Capital Partners and MTech Capital) reinvesting in the company. Akur8 plans to allocate these funds towards strengthening its international expansion, focusing on growing its US footprint, the US being the company's absolute priority. Akur8 currently has an office in New York and is expanding its team to welcome new actuarial, data science and client executive talent! Further growth in Asia is also in the cards. Additionally, Akur8 plans to accelerate its product development pipeline to cover the full pricing suite, develop US-tailored features, and create more value-added features to enhance the platform's existing modules.

What are you most excited for over the next 12-months?
Since its inception in 2018, Akur8 has rapidly gained recognition from the insurance industry due to the proposed benefits of its automated modeling platform. We would like this trend to not only continue, but accelerate. We are hoping to allow more and more insurers to leverage our solution for their pricing process. In particular, we would like to close major deals in the US over the next 12 months. Our ambition is ultimately to be the global leader in insurance pricing. The US is key in making it happen, as it is the largest global market for insurance as well as B2B SaaS, so this will be our focus!
In the meantime, we plan to double the size of the team, from 65 today to 120+, while adding one or more new offices, including in Asia. This means working hard to ensure that we maintain our DNA and we enrich our culture as we grow. Scaling while staying true to our core values is a huge challenge!

What do you think your sector will look like in the next 10 years? What are the coming opportunities and threats?
The pressure on insurance carriers has strongly increased over the past few years: rising competitive pressure from direct insurers and new entrants like insurtechs or tech giants like the GAFAs, with lower interest rates putting a drain on their profitability. These trends have only been accentuated by the Covid crisis. The expected decline in global GDP, historically strongly correlated with insurers' GWP, will only intensify competition for customer retention and acquisition.
At Akur8, we believe that more and more insurers will be leveraging AI-based solutions to improve their core capabilities and ensure their relevance in the future insurance landscape. AI has all the chances of being a major lever of the insurance industry transformation, as long as it is transparent, ethical and at the service of more fairness to policy holders of course. Insurers that will create the most value are those that strongly and sustainably commit to internal process excellence in order to build a self-perpetuating competitive advantage. Being ahead of the curve and adopting game changing underwriting or rate making solutions today will make all the difference in a few years.

Finally, is there another startup in the world of insurtech/fintech that you're really impressed by? Who and why?
Overall, I'm really impressed by the richness of the insurtech world today. B2C is the most visible part of the iceberg, that part of the ecosystem has been under the spotlight for a while, with the likes of Luko, wefox or Bought by Many for instance. They bring visibility to the sector and spearhead the adoption of new technologies, including AI, which is great for B2B insurtechs like Akur8, Shift and many others. The richness of the insurtech ecosystem, supported by an increasing number of VCs investing in this vertical, is a powerful force that is altogether redesigning the insurance landscape


If you'd like to find out more about Akur8, please visit its Sønr profile, or you can check out its website.