Cloud – the innovation enabler
Blog : 5 minutes
Do you remember the days when the debate about cloud-centered around on-premise and 'new' cloud-based insurance solutions?

Now, it's become so intrinsically linked to more flexible, scalable, and cost-effective solutions that the debate centers on 'where', not 'if' cloud services can add value as part of hybrid models.

This is relevant for all businesses but possibly more so than ever for insurance. Incumbents are increasingly seeking partnerships with external tech to create new opportunities. And there's a fast-growing number of innovative new offerings and scale-ups gaining traction and investment to serve them.

We thought we'd share five examples supporting the insurance value chain, which highlight the breadth of offerings from around the world. 

We hope you find them interesting and, if you'd like to know more about them or what's going on in the world of innovation more generally then please feel free to drop us a line. We'd love to chat and can even help with a free trial of Sonr.


Socotra is a cloud-native core platform that helps insurance companies to rapidly develop and distribute new products.
Through Socotra's platform, insurers can create any type of insurance product, for any region, and distribute it any way. Once an entire product has been configured, the platform automatically carries the product definition across the entire suite, resulting in cheaper implementations. It also offers an ecosystem of partners, which offer a range of services, from payment processing to risk modeling.
Socotra's customers include AXA, MS Amlin, Nationwide and IAG.
The company raised a $15.2m Series B in January 2020.


Novidea is a global provider of cloud-based technology for the insurance industry. The insurtech's end-to-end platform provides real-time business intelligence and seamless workflow management for brokers, agents, MGAs, bancassurance and corporate risk management.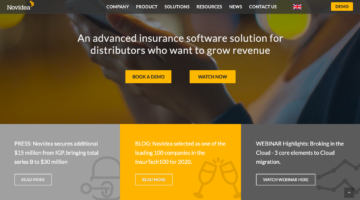 The Novidea platform gives users a single view for managing the entire insurance distribution life-cycle across all lines of business. It aims to simplify regulatory compliance and offers secure data access from any device, and it delivers visibility into the customer journey and actionable insights to help increase sales, profitability and productivity.
Its customers include Hyperion, Marsh and Howden.
In November 2020 Novidea raised $15m in Series B funding, which was extended by a further $15m in May 2021.


Snapsheet is a mobile based platform which provides cloud-native P&C claims management software and services.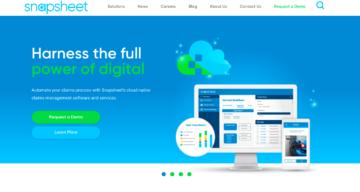 Snapsheet's SaaS solutions can operate as a stand-alone platform for end-to-end claims management or as separate modules – including but not limited to, eFNOL, Appraisals and Payments – and it also offers Snapsheet Appraisal Services. The company has processed over 2m claims and $7bn in appraisals.
Snapsheet has over 100 global clients, including Zurich, Generali, Kin and Clearcover.
In March 2021 the company announced it had raised $30m in Series E2 funding. Ping An Global Voyager Fund, Nationwide and Liberty Mutual were amongst the investors.


Parametrix is a parametric insurer which has developed a policy focused on external IT service downtime, such as cloud outages, network failures, and system crashes. Whenever any downtime occurs, clients are alerted to disruptions, and its pre-agreed payment are triggered. The insured receives payment within days with no usage restrictions or claims adjustment processes.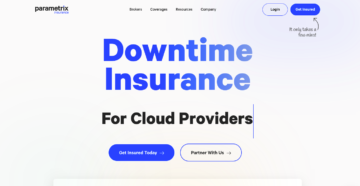 The insurtech took part in both the Lloyd's Lab and Plug & Play Insurtech's accelerator programs in 2020. It has partnerships with Tokio Marine Kiln, Hannover Re and Sompo Japan.
Parametrix raised $17.5m in Series A funding in May 2021.


Metromile offers its insurance customers real-time, personalised auto insurance policies, priced by the mile, with rates based on precisely how and how much they actually drive. Through its app, users can also view their trips, avoid tickets, find their lost/stolen car and check their vehicle's health. Metromile has also developed Metromile Enterprise, a cloud-based enterprise insurtech solution providing P&C insurance carriers, including Tokio Marine, with advanced claims automation and fraud detection tools.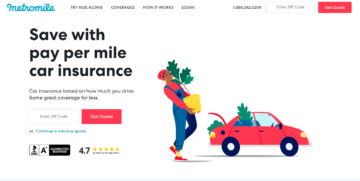 The company recently revealed that it will enable policyholders to pay for their insurance, and receive claims payments, in bitcoin.
Metromile became a public company via SPAC in February 2021.