Nikolaus Sühr – Kasko
Spøtlight : 8 min read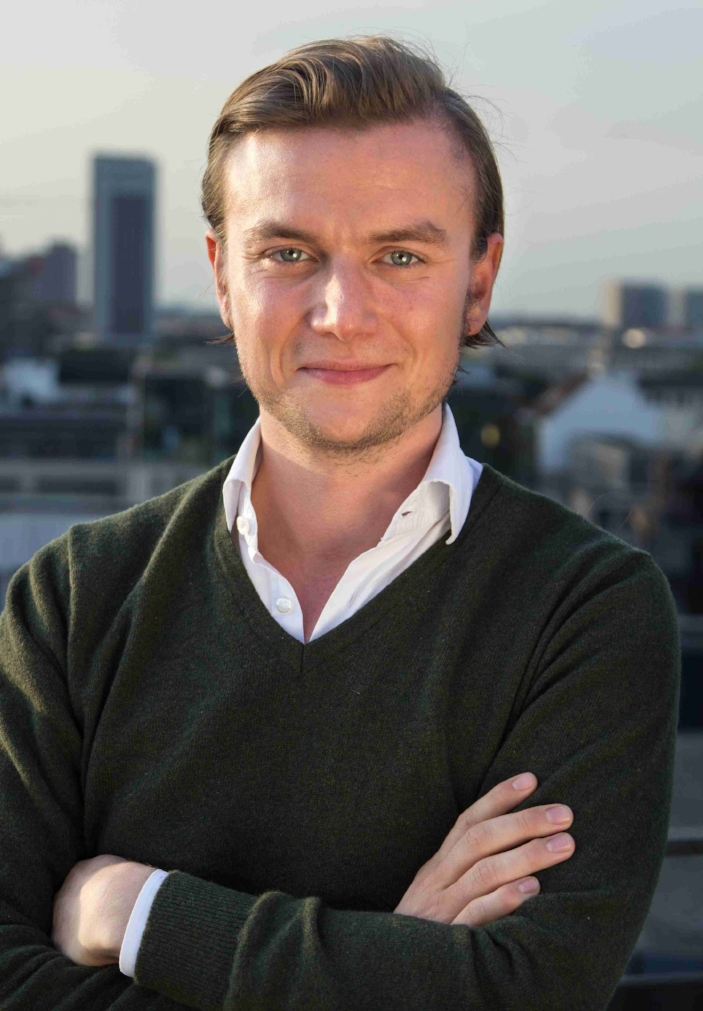 This week, we arranged a sit down with Nikolaus Sühr from Kasko to find out how their 'Insurtech-as-a-Service' is gaining traction, along with learning what's on their agenda for 2019
'Insurtech-as-a-Service' – The London-based startup, which is now nearing its 4th birthday, already boasts more than 700 distribution partners and 15 insurance partners spanning 5 countries – and we expect this to only snowball in the coming years.
Hi Nikolaus, could you tell us a little about yourself and what Kasko does?
Ok, so I am a 34-year-old, happily married man with no children as of yet. I come from an insurance family – even at the age of ten I found myself scanning through classic car files for my father's Managing General Agent business (it's an insurance intermediary who create and market their own products) for a little extra pocket money.
A few years later, following the family trade, I took my studies to Nottingham University and then London-based Cass Business school to study Insurance and Business. From here on out, insurance in its various forms has been where I have plied my trade – starting out with the next seven years covering multiple roles including as business development manager at the family firm, as well as time at a major commercial insurance brokerage learning many facets of the insurance trade. I also joined a strategy consulting firm working predominantly in strategy and digital transformation for financial services. The lessons learned across the board here have helped me mould the company I have today, and I am sure will serve me well as we push on.
My three hobbies: spending time with my wife, reading books, and, of course, KASKO. Well, they're more than hobbies – these are my three passions.
As for KASKO, it's an 'Insurtech-as-a-Service' startup that I co-founded with an old friend from University about four years ago. We have – in the way that startups do – adapted and shifted to get to where we are now. But we have found the formula that works and have since started working with some of the world's biggest Insurance companies. In essence, KASKO creates any insurance product within weeks, and at one 10th of the cost of traditional solutions. Now based in London, KASKO offers an end-to-end insurance platform where insurers design, run and manage insurance products within their own or third-party channels, which can run side-by-side or be integrated into the insurer's legacy system.
What usually takes a minimum of 18 months (and costs around €500,000) we can achieve in four weeks at a cost of under €50,000 – and we're still pushing to lower both of these. Watch this space.
Where did the idea for the startup come from and what makes you stand out among competitors?
I'd love to tell you that this was a clear path, but it wasn't. The story goes a little bit like this:
My sister initially came up with the idea of a localised tinder. We asked a friend who worked at Zalando to join us and the idea morphed into "Buzzly", a localised event app that told you were to go based on which other people were going there.
This got me excited about maybe starting my own thing, so I reached out to my current co-founder, Matt who I met at university. We met by chance, as I'd picked the wrong campus when starting out and ended up in the same dorm as Matt – a crazy turn of events that without which, I wouldn't be where I am now.
We wanted to test the waters and see if we could work together professionally, so we started a small content app called "Quotes of Glory". The aim was really just to test drive the team. We worked with quite a few friends and family, but, in the end, only Matt and I were left standing.
In January 2015, I took a sabbatical to figure out how we could take this new partnership into the insurance world, as we never intended "Quotes of Glory" to be more than a test case.
I had two ideas regarding insurance. The first was a digital broker and insurance manager (like WeFox, Knip, Clark, Brolly, GetSafe at the time). The second was for short-term car insurance via an app, allowing people to safely drive your car (something like Cuvva in the UK).
We went with the latter and started applying to startup competitions. The goal was to give us three months to figure out if we wanted to quit our jobs and take this to the next level. We then won at the WHU Otto Beisheim School of Management 3-Day Startup Pitch with "KASKO Drive". This is when we realised that we had to go full time, apply to accelerators, and get some initial seed funding. So, 2 weeks into the sabbatical, we both handed in our notice and never looked back. In fact, the night we won the competition, Matt was in London and, when I called him, he was supposed to sign his mortgage the next day. I asked him to reconsider. The next day he packed his bags to come to Hamburg and get started.
In March of the same year, we won a space at Hubraum, Deutsche Telekom's accelerator, and by April we had pivoted towards a B2B2C model. This is when we started offering tailored insurance products at the point of need for digital retailers and marketplaces to reduce our customer acquisition cost. During this time, we had also been accepted into Seedcamp's ecosystem. Seedcamp quickly persuaded us that London was the place to be, so for the third time in as many months, we moved our lives.
By August 2016, we had been working with our B2B2C intermediation model with little financial success. The sales cycles were slow, and the traction with large retailers and banks was simply not what we were aiming for.
However, we had a meeting with the Swiss insurer, Baloise, who liked our tech and had the distribution network it deserved. Baloise wanted to white-label our platform to design its products and integrate them into the various distribution channels. They would pay us a license per product, plus setup and a small success fee, and our "Insurtech-as-a-Service model" was born.
As for competitors, it's hard to define; there is nobody really that touches KASKO – we are 5-10x faster and cheaper, more flexible in terms of products and design, and are distributor integration is second to none on the market. What I would say, is that there are plenty of other startups that help insurers get to market more quickly, but competitors are the wrong word – we have a lot of respect for them. They help validate the space and our products.
What do you see as the most important qualities in a company's team?
Trust: People need to trust each other to deliver on promises, and also to figure things out when they go wrong.
After trust, I don't see much point in a team that doesn't have motivation or skills for the tasks at hand, or at least the drive to learn and adapt to the new tasks. Holding these attributes is how the aforementioned trust is built.
There is something just as important to add though. All of the above helps get the work done, but you have to have that culture too. This comes, in my opinion, in two parts: Culture (for the company) and Character (the individual's contribution to that culture). It's the things you do when nobody is watching.
Is there a particular new venture within the insurtech-as-a-service' ecosystem that inspires you?
Zhong An in China. The firm's showcase of where embedded and ecosystem-driven insurance is going is something I think about quite often.
Last month, you were named among the finalists for this year's VentureClash global venture challenge. How has this helped your profile, and will you be looking to apply for any more industry competitions?
It certainly has raised our profile, especially in the US, where we see a bright, KASKO coloured future. You can't measure the exact impact of this sort of thing, but, as far as brand building goes, it's definitely a strong start for us across the pond.

These competitions, plus using accelerators as a networking and lead channel, gives us great exposure to pre-filtered change makers within insurance organisations – they are definitely some of our most useful channels.
Your last funding round came at the end of 2017. What did you do with the financing, and do you have plans to announce another one soon?
Almost all of the funding went into building the team.
● 70% went into expanding the tech team
● 25% on delivery/operations
● 5% into sales
We are currently negotiating another funding round with several VCs in Europe and in the US, with an expected ticket size of £5m.
How are you able to compete with the well-established insurers of the world?
That's quite simple: we don't. We enable insurers to compete with new InsurTechs. We believe if our digital capabilities meet their scale – this includes underwriting, distribution, and claims services – that is the best way to drive out friction across the insurance value chain.
Effectively, we enable any insurer to take the product aspects of any 'Insurtech-as-a-Service' and deploy that to market in a matter of weeks. If you want to become Lemonade, Metromile, or Trōv on the technical level in a matter of weeks, give us a call. 
Seriously.
Are you looking to branch out into any new verticals in the near future?
Currently, we are focussing on P&C insurtech-as-a-service because it's easier from a regulatory product development perspective (there are fewer long-term risks involved). But we are already engaging in discussions to branch out into life and health insurance – just waiting for the right fit.
Insurance should keep us busy for a while, but, if you want to get a glimpse of future applications, just have a look at how insurance aggregators have started with car insurance, branched out into other insurances and, subsequently, into finance, utilities, travel etc. Where others see growth in the insurance game, at a product level, we do too – simply because KASKO's offering is agile, it can twist to suit multiple teams and the developers behind them.
What goals do you want to meet in 2019?
Our main goal for 2019 is to create our developer-first 'Insurtech-as-a-Service' platform where external developers like insurers, consultancies, IT vendors, distributors can self-create insurance products and expose them via APIs and plugins. They, of course, would be able to integrate new 'Insurtech-as-a-Service' into their creations themselves.
Aside from that, we would like to not only expand our insurer footprint in our core markets of DE, CH and UK, but we want to build on the US outpost, so that we can really sink our teeth into that market.
If you had to give one piece of advice for aspiring startups looking to disrupt the insurance industry, what would it be?
Don't pretend to be the destroyer of traditional insurers. Partner with them – they can help you as much as you can help them to gain 'Insurtech-as-a-Service'.
Take a deep breath from time to time – look at the wider picture.
Focus on channel exposure over product – the right product will adapt and be ready to pivot.
If you would like to find out more about Kasko, please visit its Sønr profile, or you can check out its website.