Niels Thoné – Sprout.ai
Spøtlight : 8 min read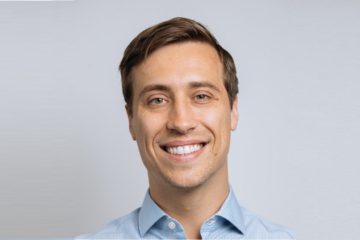 This week our Spotlight is on Niels Thoné, Co-Founder and CEO of Sprout.ai. Sprout.ai offers Contextual AI, which enables claims to be settled within just 24-hours. The startup has recently announced its second round of Seed funding, totalling $2.5m.
Hi Niels, could you tell us a little about yourself and Sprout.ai? What was the idea or moment that led you to found the company?
Sprout.ai was founded at Imperial College in 2018 in the Imperial Enterprise Lab/incubator. At the time, Lemonade was receiving lots of press for being able to settle claims swiftly. We noticed a desire within insurance companies to be able to offer the same kind of service, which would also result in a major operational saving.
However, Lemonade is built on a new tech stack and is still a very small company compared to your average size insurance company. So insurers couldn't take the same approach to get to the desired result, as it would result in billions of dollars of investments and over 10 years to overhaul the entire infrastructure. So that would not be a viable route.
We envisioned a world where insurance customers get immediate and impeccable service at the point where they're most vulnerable – i.e. when making a claim. As you only need to make an insurance claim when something 'bad' has happened to you. Currently, this process doesn't work well for insurers as the average claims settlement time is 25 days.
So to solve this problem and give customers the service they deserve, we decided to build a plug-and-play solution that would enable any insurance company to be able to settle their claims in less than 24 hours. Hence Sprout.ai was born!
Can you explain in more detail how your AI-based claims software works?
There are 5 modules to our solution:
Extraction (OCR & NLP)
We developed proprietary and state-of-the-art extraction capabilities, which leverage OCR (optical character recognition) and NLP (natural language processing). We're actually the world leader in handwritten OCR at the moment and are in the process of patenting our AI-based claims software.
The extraction happens on the myriad of unstructured documents and data underlying AI-based claims software, such as PDFs, images, and the free form notes in the AI-based claims software database. Without access to this 'dark data', currently unused by many insurers, you can't inform the claim and therefore will experience sizeable time lags on the settlement.

From the extraction phase we get what we call 'data sprouts', these are all important data points that allow us to enrich the claim with external data in subsequent stages and contextualize the AI-based claims software as soon as it hits the claim department.
Enrichment (Data pipeline)
You can compare the data sprouts to coat hangers in the sense that they enable us to attach external data points to the claim in real time in order to provide a much better data capture from the start, verify the customer statement and validate the claim.

We've gathered over 50 data categories from the external data 'stratosphere' in the past 18 months. Examples of data sources include weather, geo-location, medication information, business information, etc. and they're gathered via API networks and by aggregating databases via our own web-crawlers.

The data-network is continuously growing by aggregating more databases and websites as well having global contracts with data providers. As a result we should hit +150 data categories by 2021, which is unparalleled.
Policy checking (NLP)
In order to know whether a claim is valid or not you always need two checks. One of them is checking whether the claim is covered. For this purpose and on a global client's request, we've developed a proprietary NLP solution that can automatically check for coverage at the moment that the claim is made.

The power of our policy checking solution lies in the strength of the NLP algorithms. For example, it can understand policies like an experienced claim handler would, including all the different synonyms for the same word – e.g. septic tank, septic system, sewage disposal, etc. It also understands legal vocabulary since we've connected it to various legal and ombudsman databases and can even predict the likelihood of an AI-based claims software dispute occurring – a very powerful asset for easy and instant dispute resolution.
Prediction (DL/ML)
This is where a lot of the magic happens. At this stage we combine the historical claims data with the enrichments we've brought in. The combination of data then gets fed into our deep learning AI algorithms, which then predict the next best step for the claim and pair it with a clear justification (hence the name Contextual AI). The combination of internal and external data is proving to be a winner – with +30% performance increase on the predictive capabilities of the AI as a result. This is a big part of our 'secret sauce'.

The results you'll experience as a claim handler are that a big bulk of your incoming claims on a daily basis will be re-routed to a fast-track, since they've already been completely validated by our platform. This means that now the handler can focus on where you're needed most, the complex claims that require a human touch and high level of expertise.
Continuous guidance & improvement
Sprout.ai's Contextual AI guides claim handlers through every step of the way with recommendations and justifications. When a new piece of information comes in for the claim, the system automatically recalculates and updates the recommendation per claim.
When claims are settled, the system gets that feedback as well and hence continuously improves its performance according to the volume of claims that come in.

Sprout.ai recently raised $2.5m in funding – congratulations! What are your plans for the new investment?
Our latest funding round has allowed us to rapidly grow our inhouse skill set by hiring a new Head of Engineering and two Data Scientists.
Since the arrival of our new team members, we have started to develop an automatic policy checking tool to add to our existing product suite. This tool is a state of the art proprietary AI solution built on a set of bespoke natural language processing algorithms leveraging deep neural learning networks (recurrent and convolutional neural networks), a very recent advancement in the AI world that emulates the workings of the human brain in how it forms inter-neural connections and copes with vast amounts of unlabelled data.
We will be trialling this with one of the largest global insurance providers through processing thousands of claims by July 2020. With the addition of our new policy checking tool, Sprout.ai will be solving the entire claims bottleneck through policy checking, fraud referrals at first notification of loss and cognitive claims recommendations.
Our second seed funding round is also a stepping stone to our next goal which is to start our Series A funding by the end of 2020. In our Series A funding, we aim to raise £10M in order to take Sprout.ai to the next level. This will mean that since the beginning of Sprout.ai (2018) we have managed to raise investment every year of trading totalling £12.5M. During this stage, we also plan to expand into the US by setting up an office with new members of the Sprout.ai team.
Have you had to adapt your plans for 2020/21 due to Covid-19? If so, how?
Fortunately, we have not had to adapt our plans for 2020/21 except from our team migrating to their home offices. The Sprout.ai team has been developed from the start for agile working. Our team is located across Europe during the Covid-19 pandemic from London to Toulouse to Munich.
Our productivity levels have also rocketed without having to battle rush hour on the Northern Line to our Old Street office. We are busier than ever as our trials with multiple top 10 insurers worldwide across health, property and motor insurance have continued successfully. However, we are very much looking forward to returning to the office as since lockdown restrictions we have welcomed 4 new joiners to our team and I believe strongly in spending time together to build a successful culture.
The current pandemic has forced many insurers to review their strategy, particularly in regard to digitisation of the business. What are some of your expectations and/or hopes for the industry post-Covid-19?
Insurers are accelerating their database migration to the cloud which will enable them to innovate more

Claims specifically related to Covid-19 have and will continue to increase insurers claims volume, ultimately reducing settlement time and therefore customer experience. At Sprout.ai, we are looking into developing a specific Covid-19 solution for insurers in order to settle these claims both efficiently and accurately considering the lack of experience claims teams may have in pandemic coverage. We will use our proprietary Contextual AI capabilities to enrich claims with specific Covid-19 related information in real-time.

Some insurers were caught out when they had to work with distributed teams. So for us it's obvious that having an intelligent claims automation platform will enable them to make that transition more efficiently and allow claims handlers to continue to do a terrific job regardless of their workspace.
Last year Sprout.ai took part in the Metlife Digital Accelerator – how was that experience? Was there a particular takeaway/memory from that you can share?
On MetLife:
It was an incredible experience. MetLife has built the most beautiful R&D and operations campus in North Carolina, including its own lake!
Being in the 'bowels' of MetLife on a daily basis and meeting with top MetLife execs has really fast-tracked our traction with them. We were fortunate enough to get mentors such as the global CTO and global EVP, who really championed us in the organisation. The result is that we signed an MSA and are now an approved global vendor.
On Techstars:
Techstars is one of the most prestigious tech accelerators and their network comes with some really heavy hitters in terms of successful entrepreneurs.
Two things really stood out to me. The first was the mentor network – we were able to build relationships with CEO's of unicorn startups, which has been invaluable. The second is demo day, which is a very professionally orchestrated pitch day to an audience of +500. Demo day provided us with a lot of traction, especially within the VC community and as a result we were featured in TechCrunch and were approached by all of the USA Tier 1 VC's.
What are some other Sprout.ai highlights from last year?
Closing our $2.5m seed round, led by Amadeus Capital
Closing deals with 3 of the global top 10 insurers in our first year in the market
If you had to give one piece of advice for aspiring startups looking to disrupt the insurance industry, what would it be?
If you want to 'disrupt': become an MGA / insurer – cfr Lemonade
If you want to enable the insurance world to actually become more customer oriented on a global basis: focus on a B2B approach and start from the problem, not the technology whilst being very iterative in your approach. For us, the voice of the client determines 80% of our product roadmap. The other 20% is made up by technological innovation, such as our proprietary OCR software. In the end, it's about solving a business and use case for the claims department/insurer – not peddling another flashy technology.
Finally, is there another startup within the insurance or wider financial services space you think should be one to watch in 2020?
Slope is a fellow Techstars alumni. They've built the actuarial platform of the future, which can scale regardless of the volume, and computates massive actuarial equations in a matter of minutes instead of the usual 2-3 weeks that it takes the legacy platforms. The founding team consists of a former actuary and a rockstar senior dev. They're lovely guys to boot!
If you would like to find out more about Sprout.ai, please visit its Sønr profile, or you can check out its website.