Maarten Callaert – Paperbox
Spøtlight : 8 min read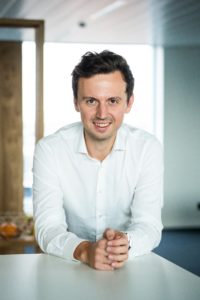 This week our Spøtlight is on Maarten Callaert, Co-Founder and CEO of Paperbox, a SaaS product for end-to-end document and email processing in the insurance industry. We find out more about the company's self-learning models, its selection in FinTech Innovation Lab London and Paperbox's plans for the rest of the year.

Hi Maarten, could you tell us a little about yourself and your career leading up to Paperbox?
After doing my Masters in Business Engineering, I followed my passion and started working in the Data & AI industry. During this period, I worked with several leading insurance companies on their Data & AI use cases.
Driven by my entrepreneurial spirit, I joined the company ML6, focusing on professional services in AI. Back in the day, we were only a six-man team but have now grown to the leading AI services company in Benelux. Working together with insurance companies on their AI use cases has led us to spinning-off Paperbox as a standalone product. Many of them struggle with a never-ending influx of documents, emails, pictures and videos. Our product is not only used by the claims teams but also underwriting and customer service. We started last year and have been busy onboarding new customers ever since. Feeling pretty excited for the coming year!

Introduce us to Paperbox and its vision in your own words.
Our dream is to impact the insurance industry to work smarter. We do this by reducing the bottlenecks of manual work, lowering errors at scale, and empowering the human-in-the-loop to engage in more meaningful tasks.
Paperbox is an intelligent document processing tool that captures information from unstructured data from documents, emails, or pictures and converts them into actionable items. By using our technology, insurance companies are able to serve their end customers faster and more accurately at a time when they are most vulnerable. We aim to reduce lead times so that everyone in the process has gains — from our customer (the insurance organisation) and their end customers. When overall lead times are streamlined, imagine how much time, resources, and energy can be saved; imagine its impact on their business; and most importantly, imagine its impact on their clients.

Can you go into a bit more detail about the self-learning technology that powers Paperbox?
Yes – of course. This is really the heart of our product. What these self-learning models are doing are the following: we read the document or email and assign a label or document type to it. Then, our technology extracts the information we need to convert it into actionable information. This could be a name, claims number, policy number, etc. These items are then sent back to the workflow management system or core insurance platform such as Keylane, Sapiens, Guidewire, etc. When we're working for insurance intermediaries such as local agents or brokers, this information is sent back to their broker management system.

Your technology could be applied to other industries – is there a reason you've chosen to particularly focus on insurance?
There are several reasons for choosing Insurance. First of all, insurance is one of the biggest markets when it comes down to document and email processing because they are still very much paper-based.
Second, there is a huge momentum shift now in the insurance industry, strongly accelerated by Covid. We see a similar progression in innovation, cloud, automation, as we have seen in banking ten years ago. With our strong background in applied AI and experience in the industry, we are in a unique position to support insurance companies towards this transformation.
Finally, our mission is to bring intelligent document processing to the broader insurance market, including SMBs, local agents and brokers. By focusing on insurance, we are able to build out-of-the-box integrations with the most common insurance IT systems, so that our technology is easily accessible and affordable at scale.

Despite only being founded just last year, you've already secured a wide range of customers, including Reale Mutua, and Belfius Insurance. What are your key value drivers?
We have three of them: lead times/customer experience, objective decision making and operational costs. By using our technology, our customers are cutting back lead times by at least 50%. Resulting into an unbeatable customer experience in times that a customer is most vulnerable. Secondly, converting unstructured information into actionable items leads to better and more objective decision making for the insurance company. This results in better decisions in almost every department. Last but not least, operational efficiency. By automatically reading and classifying emails or documents into the insurance platform, significant time savings are realised for the insurance company.

How has Covid-19 affected your business?
As we have started the company during the covid-19 pandemic, we've never known anything else. Externally, COVID-19 has propelled innovation in the insurance sector. More than that, the work-from-home policy has increased these organisation's need for cloud, remote systems and automation. These circumstances have definitely accelerated our growth and sales activities. Internally, we offer a very flexible office culture to our employees. Getting the job done is definitely more important for us than where you get it done.

What were some of your personal company highlights in 2021?
We have a few of them but let me take the time to highlight three of them: having profitable year end results, receiving very positive feedback from our first customers, and building strong partnerships in our local markets.
First, we closed 2021 with a profitable year end by winning a number of key accounts. We know this is quite unique in a SaaS and high-growth environment. Second and more importantly, our first customers gave us very positive feedback that they love our product. It's such a great feeling to hear this, to be honest. These insights not only encourage us that we are on track but inspire us to go to the next level!
Last but not least, we've built some great relationships with local insurance partners who are helping our customers to start and integrate with Paperbox. These are powerful partnerships that give us access to a wider range of opportunities to introduce our product.

Paperbox has been selected for the 2022 edition of the FinTech Innovation Lab London – congrats! What are you hoping to gain from the program?
Thank you – it has been a huge milestone for us to be selected for this year's cohort. We are keen to learn concrete approaches to iterate on our product-market fit in markets such as the UK, and further fine-tune our value proposition. During the program, we have the opportunity to gain access and build connections with leading financial institutions around the globe. The program has only started and we're now already talking with some leading insurance companies. We particularly find FIL's mentoring program most valuable, because leaders and experts in the fintech industry are helping us to further fine-tune our personal capabilities. This is in line with our value "Always improve" and there are some impressive names on their list.

Are there any company goals or plans for 2022 that you can share with us?
For 2022, we are focused on scaling our business and going-to-market internationally. Based on the feedback from our customers, our product is ready and is solving the problems they have. This compels us to focus on bringing this product to key insurance players in relevant markets. Both from a revenue as FTE perspective, our goal is to double our 2021 actuals in 2022.

Finally, what do you think your market will look like in 10 years? What are the coming opportunities and threats?
We see two main trends for the upcoming 10 years. First, we strongly believe that there will be fiercer competition between direct insurers and new entrant insurtechs like Alan, especially for customer acquisition and retention. To stay in the game, insurance players will have to adapt technologies like Paperbox to keep up with the pace of industry innovation.
Second, we also expect a shift in the broader insurance market following the consolidation of many organisations which include large insurers, SMBs, local agents and brokers. This will increase their need for smart technologies that ramp up efficiencies, alongside implementing more personalised and customer-centric processes.

If you'd like to find out more about Paperbox, please visit its Sønr profile, or you can check out its website.