Nico Polleti – Cluno
Spøtlight : 5 min read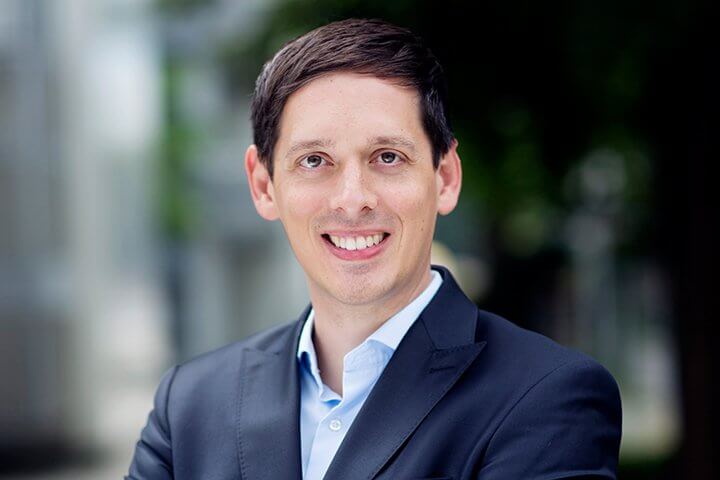 This week we spoke with Nico Polleti, Founder & CEO of Cluno the mobility-as-a-service car subscription venture based in Munich, Germany. Cluno announced a €7M Series A back in April this year just 6 months after launching, led by prolific tech investors Acton Capital Partners.
In our Q&A session, Nico talks us through what inspired him and his business partners to start Cluno and provides us with his prediction for the future of mobility.
Hi Nico, could you tell us a little about yourself and your company Cluno?
My wife Christina and I met 12 years ago. We first worked together and then became a couple. When we decided to quit our jobs (at that time, I was the youngest MD of a Porsche Center in Germany and Christina was head of marketing of a car dealership group) nobody understood that step. To be honest, for friends and families, that decision seemed to be complete nonsense. But our aim in life was to build our own company and pursue our dreams.
There's a quote I read that describes perfectly our feelings in 2010 – "Some things in life are dangerous and others are scary. Staying in my old job would have been dangerous but not scary. Building my own business was not dangerous but scary."
So, we moved to Munich, lived in a 33 sqm flat, met Andi (our co-founder, a very talented and open-minded tech guy), and founded our first start-up easyautosale.com (an online trade-in service, sold to Autoscout24 / Scout24 in 2015). Easyautosale.com was a huge success: We sold €100M worth of cars a year when the company was acquired by Autoscout24. But of course, we also made a lot of mistakes and learned a lot. Cluno is our new start-up with the prediction for the future of mobility. 
We sell mobility, not cars. Cluno customers book their cars online (web & APP), they pay a monthly all-in rate (everything but gas is included) and drive as long as they want. In addition, they can change cars (makes & models), upgrade and downgrade at any point in time.
What inspired you to create Cluno? What do you think differentiates your proposition from others in the market?
In the last 20 years hundreds of people, friends and family asked me for help when they were trying to find the right make and model, negotiate prices, had an accident or thought about changing their car. I always had that budding "Cluno idea" in mind, and then, in 2009 when a client asked me if he could have a SUV in the winter and a convertible in the summer (of course a luxury problem…), I knew that car ownership would change completely in future.
Does it really make sense to own a depreciating asset? An asset with limited warranty? Is it fun to care about insurance and registration? And is it a great customer experience to be bound to that asset for years and negotiating the trade-in price when you want to change cars?
Cluno customers like our answer to these questions. We care about everything; the customer just drives. That's it. That's Cluno. Car subscription will replace traditional ownership models. We are convinced, that 15% of the present leasing, financing and buying a car market will be subscription based in 5 years. That speed is due to the high advantage for customers in subscription models. And, in addition, the barrier to entry for customers is super low.
The car market did not change since 30-40 years when leasing became popular. Now, it's time for the next disruption – a more flexible ownership model that focusses the customer and not the car only!
We are convinced, that 15% of the present leasing, financing and buying a car market will be subscription based in 5 years.

Nico Polleti
What are your predictions for the future of mobility in the next 5-10 years?
The prediction for the future of mobility is technological breakthroughs like electric vehicles and self-driving cars fuel the change to more flexible and usage-focused subscription models. For example, we already see, that the leasing share is much higher for electric vehicles than for gasoline and diesel vehicles! That shows, that drivers are willing to pay and want to drive these cars, but does it make sense to buy an electric car when you can be certain, that the range will double in the next 2-3 years?
We will still see millions of people who want to have their "own car" in front of their house every day. Because they need it to bring their kids to school and go to work.
Car sharing, ride-hailing, and other mobility concepts are promising models, but the mass market is still (and will be for years) the "own car" – but in a more flexible and intelligent way than today.
What do you see as the most important qualities in a company's team?
First of all, the founders have to be all-in.
Christina always says: "It is no option to fail". When Christina, Andi and I decided to start Cluno.com, we decided to invest not only our entire time, but also our money. I know, that this fact was a strong signal when we raised the first VC round. The €7M series A VC investment from Atlantic Labs and Acton Capital only 6 months after launch was a special award for us and the entire Cluno team.
Our team (at the moment 25- IT, web, car, marketing and finance experts) is very diverse. It includes people from different nations and different backgrounds. We attracted very young "rock stars" as well as senior experts. Besides education and experience, we always look for mission-driven people who love the Cluno idea. And we focus a strong company culture, we want to have fun and success together!
If you had to give one piece of advice for aspiring startups looking to disrupt the mobility industry, what would it be?
We are in the middle of a complete change of the mobility industry. The speed is very high, large corporations and established companies will not always keep pace. This opens new dimensions for start-ups.
My advice for aspiring start-ups is: Start fast, learn fast, adapt fast. Don't spend a year to develop the "perfect product". Launch super fast and attract the first customers!
If you would like to find out more about Cluno, please visit its Sønr profile, or you can check out its website.