Natalia Dorfman – Kita
Spøtlight : 8 min read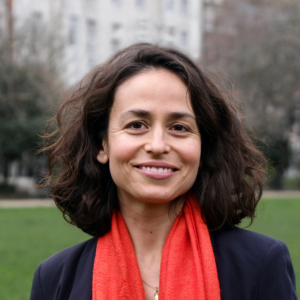 This week our Spøtlight is on Natalia Dorfman, CEO and Co-Founder of Kita, the world's first carbon insurer. Kita's insurance products cover carbon delivery risk, removing a significant protection gap for both buyers and sellers in the market. We discuss the startup's recent heavily oversubscribed Pre-Seed round, Kita's plans for the next 12-months, and the insurance industry's role in fighting climate change.

Hi Natalia, could you tell us a little about yourself and your background prior to launching Kita?
I grew up in Southern California, but have since moved around to North Carolina, New York, Brussels and London. I studied environmental science at Uni but I've spent most of my career running business development strategy for large global law firms. It is a great job – I always loved deep-diving into new areas of law without needing to go to law school myself!
Prior to founding Kita, I spent 8+ years at Clyde & Co, an international law firm with a large focus on insurance. I started in the UK insurance business development team then was promoted to Global Head of New Business and Head of Business Development – Services. I had the privilege of leading business development strategy for the firm's Climate Risk practice, which fully re-awakened my passion for environmental causes. I spoke with a lot of companies about climate-related risks and opportunities, and I saw real gaps where new solutions were needed.
Start-ups are an amazing way to create innovation at speed, so I decided to take a leap and see if I could build a company to make a difference. I was accepted to Carbon13, the venture builder for the climate emergency, and that led me to co-founding Kita alongside our CTO Paul Young and our CPO Tom Merriman

Could you tell us Kita's origin story? Your experience of the founding team coming together, and the reason why Kita was started?
Our origin story starts at Carbon13. The programme starts with a 6-week "team building" phase, where from around 70 people we needed to find co-founders. I spoke to everybody, and I was open to ideas, but I kept being drawn back to insurance. That's because it was very clear that for many of the climate technologies people were building, insurance was either going to be a blocker – i.e. not covering the risks that matter most, or an enabler – de-risking the business and allowing more efficient capital deployment. People were talking about "green banks", and I thought – why not a "green insurer"?
That's when I met Paul and Tom. They came into Carbon13 as a pre-existing team looking to build a SaaS solution to increase transparency in the voluntary carbon markets. Paul's an astrophysicist who spent 24+ years at data science-led hedge funds, as well as start-ups (the hedge fund regtech business he co-founded was sold to Nasdaq in 2017). Tom's experience is in fintech product development, building and leading teams at Bloomberg and Nasdaq and he has a degree in climate science. Like me, they are both passionate about fighting climate change and decided to pivot their careers accordingly.
When we met, we quickly saw how complementary our combined experience was. And that's how Kita was born – my "green insurer" idea combined with their "SaaS for the voluntary carbon markets". After a lot of customer discovery interviews, we landed on where we are now – the world's first dedicated "carbon insurer", creating insurance solutions to enable high-quality carbon removal solutions to scale.
As a team we have an absolute shared focus – we all had other career options, but we fully committed to fighting climate change. That's why even though building a new insurance company in a new market is a risky game, I'm confident we are a team that can achieve it.

Kita is fully focused on the climate crisis. What is the specific problem you are trying to solve?
There is an analogy people often use when discussing climate change, comparing carbon in the atmosphere to a flooding bathtub. To fix the problem, you need to turn off the tap and open the drain. For the climate crisis, this means both stopping putting carbon into the atmosphere, and taking out the carbon that is already there. Kita's focus is on the latter – carbon removal solutions, which can be both technological (e.g. direct air capture) or nature-based (e.g. afforestation).
The problem is that carbon removal solutions lack insurance for their key asset – carbon units sold within the voluntary carbon markets. These units are increasingly sold upfront as a promise to deliver carbon savings in the future. However, if that carbon removal solution (e.g. a young forest) doesn't develop as planned, there is no insurance to cover that carbon loss, leaving both the developer and the buyer exposed. We call this "carbon delivery risk" and it is the core problem we are trying to solve. We think that via creating effective risk transfer solutions we will enable more high-quality carbon removal solutions to scale and have more impact in fighting the climate crisis.

Can you share how you will measure this?
Carbon removal solutions and the voluntary carbon markets are both complex, and measurement of "quality" is a challenge. So how we will measure this to build our insurance products is part of our USP. It isn't easy to do! We are lucky on this front that we've worked with Carbon13. Carbon13's investment thesis is to only invest in companies that can reduce CO₂e emissions by millions of tonnes, and we've been fortunate to have access to some brilliant minds that have helped us quantify and embed our climate impact into our business model from the outset.

You've had a big couple months – closing your pre-seed investment with Insurtech Gateway as your lead investor and being accepted to Lloyd's Lab – congrats! What are your plans for the next 12-months?
Kita is a values driven company and our first value is "focus". We are fighting the climate crisis and we need to move fast. Thus our plans for the next 12 months are around rapid development – running proof of concepts, developing risk carrier relationships, working on regulatory approvals to become an MGA, and hiring our team. We are delighted to be working with Insurtech Gateway on this; their reputation as the fastest place to build and launch an insurtech is the perfect fit for us.
At the core though, we are focused on developing products that will enable more high-quality carbon removal solutions to be developed. Everything we do centers on that. In addition to the in-depth insurance knowledge Insurtech Gateway brings, we are very fortunate to be part of Lloyd's Lab cohort 8, which provides access to excellent insurance mentors who are guiding our product development.

You are focusing on a brand-new market. With such growing focus on climate right now, how do you see this market developing in the near-term, and how will you differentiate against future competitors?
The voluntary carbon markets are rapidly growing and changing. Insurance-led analysis can help drive capital towards high-quality carbon removal solutions that can make a real impact. We've spoken to many people and we consistently see a huge need and desire for insurance solutions. There are a lot of different aspects that need insurance, and a lot of education that needs to be done. So, we 100% expect to see other insurance companies entering the market and we welcome the competition. That said, this is a complicated and fast-moving space, and we think our deep understanding of the underlying carbon removal projects, strong climate-industry relationships and laser focus will provide both a technical and commercial USP as competitors arise.

You are focused on fighting climate change, but how do you plan to embed broader ESG considerations into Kita's own business as you grow?
This is essential. In terms of our own carbon footprint, it is of course very small right now as we are so young. However that also means we are too time poor to track our emissions in great detail ourselves. Fortunately, there are increasingly amazing start-ups helping with carbon accounting in time efficient ways. For example, we recently used GreenPixie to measure our website's carbon footprint. We will be working with partners like this to keep track of our carbon footprint from the very start, so that we are on top of it as we grow.
In terms of broader ESG metrics, we are values-driven and focused on how those values – seen here – will embed into our operational structure. As a female CEO in a largely male-dominated industry, I am particularly conscious of diversity and inclusion. We actively seek out diverse viewpoints because climate change impacts everybody, and blind-spots risk impeding effective action. Larger companies need to manage diverse hiring in a more structured way. For Kita right now, the key thing is making D&I a conscious priority. We need to hire the best people to grow as a company. But if the "best people" consistently look, act and think just like me, then it means I need to reconsider my definition of "best". That is a responsibility I take very seriously.

What do you see as the role of the broader insurance industry in fighting climate change?
This is something I'm passionate about. Insurance should play a huge role in fighting climate change because there are few industries as affected by climate change as insurance! The industry is impacted by climate change across all its facets – underwriting, claims, investment portfolios, but also can drive positive change via each of these areas as well – from looking at innovative new risk transfer solutions that enable green innovation and close protection gaps, to paying claims faster to build back resilience, to shifting investments to climate-aligned portfolios.
Via assessing, pricing and managing the risks of change, insurance can help accelerate that change and this can't happen fast enough. I think we're seeing gratifying movement in this area (and we've seen this firsthand within Lloyd's Lab), but there is still a lot more to be done and our hope is that Kita can play a part in accelerating this shift.

And finally, what do you think the market will look like in 10 years? What are the coming opportunities and threats?
The insurance market for the carbon markets, and carbon removal solutions more broadly, is going to take off over the coming 10 years. There is an element of crystal ball gazing to exact numbers, which vary widely, but broadly speaking if the world is going to meet its net-zero commitments, carbon removals will be key to that. The important thing is that we need to shift to higher quality solutions that don't just effectively remove carbon from the atmosphere, but also provide broader biodiversity and social benefits. Currently there is a shortage of supply here. I think Kita can help with this challenge via enabling more high-quality carbon removal solutions to scale, and I have been really gratified in our conversations to-date that there is recognition that insurance is needed. This is a very brief answer of course to a complicated question, so to any readers who want to discuss this in more detail, please do get in touch!

If you'd like to find out more about Kita, please visit its Sønr profile, or you can check out its website.