Matthew Reed – Equipsme
Spøtlight : 8 min read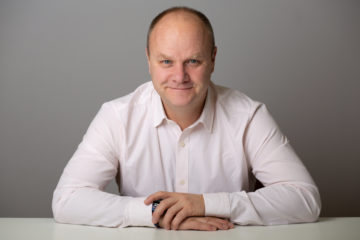 This week we interview Matthew Reed, Founder and Managing Director of Equipsme, which offers business health benefits and insurance. We discuss how attitudes to private health insurance have changed since the pandemic, and what the future has in store for the company following a year of fantastic growth.

Hi Matthew, could you tell us a little about yourself and what you got up to before launching Equipsme?
I ran away to sea at an early age and joined the Royal Navy to travel the world. I spent a lot of time off the coast of Bosnia and ended up working for the United Nations as a military observer in Sierra Leone.
Then like many of us I fell into insurance, loved it, and stayed. I started in the sales and marketing department of Howden Insurance Brokers and have had a few jobs in general insurance since, including as part of the team that turnaround AXA GI in the UK as managing director for commercial lines.
Serving SMEs has always been a focus, and I ended up looking at the private health insurance provision for SMEs for AXA Health, which is how Equipsme began.

Equipsme is aimed at SMEs and the self-employed – people who maybe haven't bought PMI before – why did you decide to go down that route, and how were/are you able to achieve a sustainable, affordable pricing model?
Before Covid only 5% of businesses offered any private healthcare benefits, and most of those were only for the most senior people in the business. Our research showed this wasn't due to lack of demand but because they hadn't found a suitable product. Nearly half of the SMEs we spoke to had looked into private health insurance but walked away because it was too complicated and they didn't have enough confidence in whether they'd be able to sustain it after those 'introductory rates'.
Put simply, we wanted to build something that would address the part of the market whose needs were largely unmet.
To deliver it we partnered with some really innovative and efficient companies who are the best at what they do. For example Health Hero for digital GP consultations, Thriva for finger prick tests for conditions such as diabetes and vitamin D deficiency and of course AXA Health for physiotherapy, diagnosis and treatment.
We created plans that have the same price for all employees and clearly communicated exclusions for pre-existing conditions and cancer treatment. The pricing of our plans hasn't changed since we started trading three years ago, and new customers don't pay less than those who are renewing.

How has Covid-19 affected your business? In terms of both externally to your customers, but also internally too.
Covid-19 has obviously catapulted health to the front of everyone's minds. For our customers it has accelerated peoples' thinking around providing private healthcare to support their teams. We certainly saw some sectors slow down their decisions as they waited to see what government support would be available and the road out of lockdown, but as we edge closer to normality we're seeing more businesses deciding to reward their teams with Equipsme plans.
For our team it's been tough. Almost every one of us is a working parent without the luxury of a stay-at-home mum or dad to pick up the bulk of home schooling. We have had to be disciplined about our priorities and focus – luckily were already used to flexible and remote ways of working but we certainly have missed being in the same place at the same time.

We've seen some major changes in the insurance sector recently due to Covid-19 – how do you think consumer and business attitudes to private health insurance in particular have changed over the last 12-months?
We actually did some consumer research on this over the summer and it showed the number of people who would consider paying for treatment privately or buying health insurance had doubled since the pandemic. The public, and particularly younger people, aren't ideologically opposed to private healthcare. They see it as a way of taking some pressure off the NHS as it works through its longer waiting lists.
For businesses we're seeing health insurance resonate for different reasons. Some employers are acutely aware that their productivity falls when their staff are ill, worried about their family's health, waiting for a physio appointment or specialist referral. I was speaking to a business last month which provided full bells and whistles PMI for their directors and nothing for the rest of the workforce. After everything the team had been through together over the last 12 months they were planning to cancel the directors' PMI and buy Equipsme for the whole team instead.
For self-employed business owners there is a continuum between their own health and the health of their business and the appeal of health insurance that covers their families is also resonating.

I've heard that you have renewal rates that are technically better than 100% at the moment, as companies are renewing and adding more staff onto plans – can you tell us more about the growth you're currently seeing?
That's the figure I'm most proud of. Our premium renewal ratio is currently 108%, which means that some companies have increased how many employees they buy Equipsme for or upgraded the level of cover at renewal.
New business has also increased substantially thanks to our new distribution partnerships and the returning confidence of businesses as we start to see a path out of lockdown. February was our best month for new business to date and the business has grown by 301% year-on-year. That's coming from a real range of businesses – the self-employed, theatres, a construction firm…. but what they have in common is buying health insurance for the first time as part of their recovery plans.

In the midst of Covid-19 Equipsme successfully crowdfunded last year – ending up 175% over-subscribed. Why did you choose the crowdfunding route, and how have you been putting these funds to use?
We thought about crowdfunding for a long time and ultimately decided it fitted with our aims of democratising health insurance. We wanted to create a community of investors and brand advocates and really enjoyed the fresh perspectives and questions that they bring.
We've been using the investment to improve our direct quote-and-buy journey and invest in digital marketing – and you may notice our website's got a new look too.

You've also recently partnered with Simply Business for its new proposition. Can you share some more details?
The use of digital technologies has endless potential to disrupt traditional insurance. The entire process from pricing and under-writing to claims management and settlement can be made more efficient with the help of
Simply Business hadn't previously sold health insurance and it was a real honour to go through the process to be their launch partner. We ran an initial pilot which basically tested the messaging and demand from their customer base and generated leads to our website. After that initial project we did a lot of work behind the scenes to integrate a full quote-and-buy journey within Simply Business' platform.
We're starting with our Solo product, for self-employed business owners and the plan is to extend that to our plans for businesses with employees in the summer.

What are your future ambitions for the business? Do you have any plans to work with big corporates or move into the B2C space in the future?
We are very much open to large employers and signed distribution agreements with some of the UK's largest corporate benefits advisers including Howden and Aon last year. The sweet spot there for us will be the swathes of companies realising that they need to do more for more of the everyone in the workforce.
We designed our plans flexibly so that employees can upgrade and add their family members directly with us. That means a large firm can buy the entry-level £7 per employee per month plan (which is comparable with a dental and optical cash plan but we would argue more relevant) and it's then up to the individual if they want to top it up to add their kids or upgrade to private diagnosis and treatment.
In terms of B2C we've always been distribution agnostic and want to provide the product wherever the customer wants to buy it, whether that's through a high street broker, their bank, or directly from us.
As for an individual product? If there's a demand for a low price simple product, we will of course be investigate it.

What do you think the market will look like in 5-10 years? What are the coming opportunities and threats?
We're starting with our Solo product, for self-employed business owners
Bigger, and digital. Bigger because pandemic has reduced the stigma of a private health policy and it could be seen as the responsible thing to do while the NHS looks after the more vulnerable. Digital because so many people experienced video consultations for the first time in 2020 and have realised how much can be done from wherever you are.
I think the biggest threat to our market as it stands would be a big push by an American provider to capture some of the growing market over here.

If you had to give one piece of advice for aspiring startups looking to innovate the health insurance industry, what would it be?
Learn to make your own lunches and don't give up.

And finally, is there a startup within the insurance or adjacent industry you think should be one to watch right now?
Anorak because I like how they've made life insurance empowering for the customer and their tech is excellent.
The Neo banks are really interesting too, particularly considering where they started, eg. Revolut's journey from money transfer to challenger bank. I'm interested to watch Countingup as the combination of accounting software with a business bank account insight is a new customer-focused take in a market that suffers a real dearth of customer innovation.


If you'd like to find out more about Equipsme, please visit its Sønr profile, or you can check out its website.