Erik Abrahamsson – Digital Fineprint
Spøtlight : 8 min read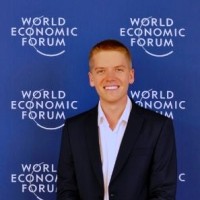 This week, we cast our spotlight on Erik Abrahamsson, Founder & CEO of Digital Fineprint, a start-up developing AI-driven and big data tech solutions that help insurers and brokers protect SMEs.
In our Q&A, we cover everything from company origins to recent successes; how to disrupt vs. how to destress, and much more.
Hi Erik, could you tell us a little about yourself and what DFP does?
Sure! I'm a farmer boy from Sweden who was lucky enough to go out on a never-ending international adventure which I'm living every day. From the farm, I went to King's College London, then worked in Malaysia, Switzerland and Singapore, learning loads and working with incredible people along the way. Winning a scholarship to Oxford for my master's degree allowed me to put my savings to work at building a startup instead of paying for tuition fees.
The problem we address at Digital Fineprint is underinsurance for small businesses. The AI-driven and big data tech solutions we have created help educate SME customers on their digital and non-digital risks, supporting insurers to preserve the livelihoods of millions of people worldwide. The actionable insights we drive from open data by using machine learning support the entire distribution process of commercial insurance. SMEs are the backbone of the UK (and world!) economy, and we are proud to be helping the insurance community to protect them.
Where did the idea for the startup come from and what makes it unique?
We first conceived the idea for building data tech solutions that will improve the insurance distribution when we identified the lack of digitization in the insurance industry. We saw an opportunity for improving customer experiences with purchasing insurance online through power of data tech solutions and predictive analytics. The most vulnerable sector turned out to be small businesses. If there would be an unexpected cost or damage of £50,000, one in two businesses would face bankruptcy.
So, we are committed to helping protect SMEs around the world by building analytics tools and better software for the industry. In doing so, we identified an opportunity to help incumbent insurers digitise and improve their reach and interaction with business customers.
What do you see as the most important qualities in a company's team?
To support our company growth, we've had some amazing and talented people joining the team recently. My way of looking at it is to hire people with passion, inquisitive minds and personality. Then, provide them with the supportive leadership and learning culture, get them excited about the common goal, and empower them to share their ideas and experiences.
Is there a particular new venture within the insurance ecosystem who inspires you?
What Trōv has built is amazing, and it is now being scaled across the globe by a fantastic team.
Here in the UK, we are big fans of Instanda, BoughtByMany and Laka, who are all bringing much needed innovation to the industry.
And finally, it's great to see so many new ventures in the SME insurance space, for example Next Insurance in the US and Zensurance in Canada.
Last month, you won the UK final for the Acord Insurance Innovation Competition, meaning you get to exhibit at New Orleans in October. How important is this for you as a business?
It is very exciting and important at the same time. Getting into the Final of Acord Innovation Challenge presents us with a great possibility of learning more about the US market. We have already seen a strong interest for our product from the insurance companies in the States, and now we have a chance to showcase our technology.
During the same trip, we will also exhibit at InsurTech Connect in Las Vegas, which is both a really fun event but also an amazing gathering of the most influential people in our industry, so we can't wait!
You are also a part of Batch Zero at this year's Plug and Play Insurtech in Munich. Which part of the business will you look to focus on during those 3 months?
It's been an amazing program, and we're grateful to the team for selecting us. Most of the focus will be on business model development, as our technology and our product has now matured and can be launched in other countries. So, we are exploring both the US and German market and are learning new things every day. We were also introduced to the leading partners and mentors in the insurance space and we hope to see Germany as our next go to market at the back of this program.
Out of the other 15 companies, which are you most interested in and why?
All of our batch 0 colleagues founded and work for great companies that we expect to see having huge impacts on the industry. However, we were especially impressed by the drive and business enthusiasm from the people at Fing, Imburse and Instanda.
What I really like about the Insurtech ecosystem is that people are so supportive and collaborative – we all form partnerships, we all introduce each other to investors – it's an amazing community that we're lucky to be part of!
At the start of 2018, you announced a $2.7M funding round. How have you used those funds, and do you have plans for another funding round this year?
Getting Pentech onboard alongside our other investors has been amazing. We're getting so much incredible support from our investors. We have used the funds to execute our growth strategy, expanding the scope of our products and geographic footprint. Our team has grown from 8 to 20, new customers and partners have been signed up, and we are currently working on entering new markets. On all fronts, revenue, product, team and traction, we are moving forward at a rapid pace, which is really exciting.
Investors are reaching out to us on a regular basis, which is a testament to the traction and technology the team has put together. At our current growth rates, we will probably raise another investment round, which will be used to expand the team, boost our sales and marketing efforts, and allow us to work on opportunities in the US and wider Asia.
If you had to give one piece of advice for aspiring startups looking to disrupt the insurance industry, what would it be?
Go out and talk to people. Listen, take notes, learn as much as you possibly can. And then, only after you have gathered validated input and feedback, should you launch your venture. Also, the term "disruption" gets thrown around a lot today, but when I worked at Twitter it had a very specific and quantified meaning. So, make sure you can quantify a customer benefit, and then find partners that you can team up with to go-to-market.
If you would like to find out more about Digital Fineprint, please visit its Sønr profile, or you can check out its website.