Christian Wiens – Getsafe
Spøtlight : 4 min read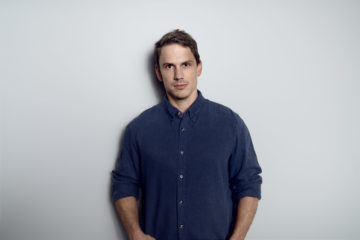 This week our Spøtlight is with Christian Wiens, Founder, and CEO of Getsafe, a digital insurance provider available in Germany and the UK. We discuss Getsafe's future plans, and how they've managed to win over so many first-time insurance customers.

Hi Christian, could you tell us a little about yourself and your company, Getsafe?
I'm a mechanical engineer by training and, as the CEO and founder of Getsafe, a digital insurance provider, I have multiple responsibilities. I try to be a good captain who listens to both customers and employees. And I'm responsible for Communications and Investor relations, among many other things.
At Getsafe, we want to build a completely new, delightful insurance experience on the smartphone. We are the market leader for first-time insurance buyers in Germany and we expanded our services to the UK last year. We serve over 175,000 customers to date and are increasing our premium by successful cross-selling via our app. Right now, we are primarily focussing on property and contents insurance policies. But we also just launched a new dental product.

A large percentage of Getsafe's customers are buying insurance for the first time – what do you think are the key elements to successfully breaking through to that customer base?
The insurance industry is one of the few industries that is still in its infancy with regards to digitisation. This is surprising, given the fact that there is a new generation of policyholders with new needs. Digital natives want to purchase and manage their insurance coverage independent of time and place; they want an uncomplicated and transparent mobile-first insurance experience on their smartphone. Although more and more insurers are working on the option of an online policy or an app, it's usually a half-hearted attempt to make paper-based products a bit more digital. This does not work. Meanwhile, Getsafe fully meets the expectations of the younger generation who are used to being able to access information and services anywhere and at any time at the push of a button.

Getsafe underwent a number of hugely exciting events in 2020, including a UK launch just as the pandemic began to take hold. How did Covid-19 affect your expansion plans?
On the one hand, we, as a digital insurance provider, profited from our mobile-first approach. In times of social distancing, many people switched to digital solutions in general, and that is true for insurance as well. We don't rely on brokers or intermediaries, and our technological infrastructure allowed us to continue with our business. But on the other hand, without Covid, we probably would have been farther along. With travel restrictions and so many external uncertainties, we decided to focus on Germany and the UK for now. But we still hold on to our plan to launch in other major European markets in the near future. Thanks to our platform, it's quite easy for us to enter a new market fast.

Last year Getsafe partnered with Swiss Re, and launched digital car insurance optimised for smartphones, with plans to test driving behaviour-based pricing. Can you tell us a bit more about that?
Getsafe is already at the forefront with its technological approach. Automation and AI help us to improve user experience and allow for more efficient processes. Currently, we're still working with systems that follow configured rules. But we're in the process of testing self-learning systems which are able to recognise insurance fraud, minimise risks, and adjust prices – all automatically. So driving behaviour-based pricing is only one of the possibilities that we want to explore in the future.

In December Getsafe raised a $30m Series B funding round, making it one of the best-funded insurtechs in Europe. What have you been putting the new funding towards?
We use the money to scale our business.

What are your plans for the next 12-months?
Getsafe has proven its product-market-fit with a capital-light MGA-setup. We first concentrated on understanding the customers' needs in a clean and agile set-up without losing too much time in a lengthy licensing process. Now we will focus on our own license to dig deeper into the insurance value chain, to ultimately deliver more value.

What do you think your market will look like in 10 years? What are the coming opportunities and threats?
Insurance services will go beyond simply paying out for claims. They can also help prevent claims from happening in the first place by minimizing risk and provide customers with comprehensive support and care after a claim. Insurance of the future is digital, smart, and personalized. It is holistic and proactive. This means that there will be many new chances to give customers great experiences with insurance, but it will also take a lot more to stay competitive.

What advice do you have for startups looking to innovate the insurance industry?
Insurance is a long-term play with a stable, proven business model that materializes over time. Look for investors that deeply understand this.


If you'd like to find out more about Getsafe, please visit its Sønr profile, or you can check out its website.