Lior Shacham – PicUp
Spøtlight : 6 min read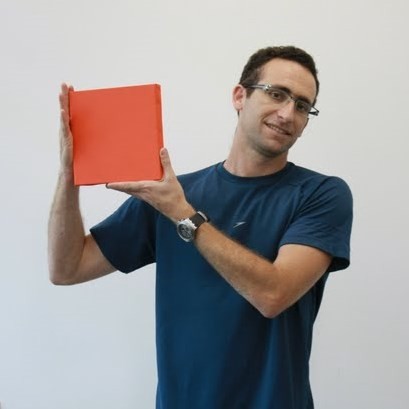 This week, we chatted with Lior Shacham, CEO of PicUp, an AI-based personalization system for outbound calls that makes it easier for businesses to engage with consumers. The company recently graduated from Startupbootcamp's 3-month accelerator program and has received an undisclosed amount of seed funding.
In our Q&A, we discuss how they're doing away with dodgy sales calls, exciting potential partnerships, and the SBC classmates they found most inspiring.
Hi Lior, Tell us a bit about yourself and what PicUp does?
I'm Lior, the CEO of PicUP. I'm a second time entrepreneur, having started my first company – a niche e-learning business – while I was a student, which I then ran for 14 years.
PicUP is an AI-based visualization, optimization, and personalization platform for outbound calls. Our unique patented technology helps call centers to improve their customer service and increase sales by adding a personalized digital layer and connecting digital channels to the phone call's interface.
Essentially, we've created a win-win situation where, for the first time ever, customers are able to know exactly who is calling them and why, while sales people know when to call and can close deals directly from the app with on-call forms and e-signatures.
You're about to launch the pilot for your new Where did the initial idea come from? Why is it needed in today's world?
Our journey started at the age of 4, when Liad's and my father put an improvised phone line between our houses, before regular landlines arrived at our town. Almost 40 years later, we realised that the phone is still important and needs innovation in order to keep up with today's technology. So, we decided to act.
Initially we built a social phone call dialler, which let users express themselves with a selfie and a ringtone while making outgoing phone calls to friends and family.
While pitching our idea, we were asked to turn our app into technology that could be utilised for B2C phone calls. By doing this, we've managed to bridge the gap between the digital and personal by empowering the old-fashioned phone call with digital capabilities that ensure customers receive efficient, high-quality, yet personal, service.
You highlighted only 25% of call receivers pick up sales calls, how much does PicUp, an AI-based personalization platform for outbound calls improve this figure? Do you have any case studies you could refer to?
We are about to collect and publish our first real-life results soon. So far, we have done internal and closed pilots for a bank and healthcare in Israel.
What I can disclose is that the results of the pilots were very good, and both organisations stated interest in extending our exposure to their clients.
Another thing which is important to understand is that answering rate is not the primary goal. What's more important for call centres is increasing their efficiency and improving their conversion rate. So, by using our service, consumers know exactly who is calling and what it is in regards to, meaning those who still pickup must be interested in the businesses' offering.
What would you say is your company ethos?
We believe that, as a startup, it's crucial to be adaptive. I think our main differentiator is that we always find a way. We work hard, we don't compromise, and we always try to do it with a smile. It's important that you choose to be here and truly enjoy the work you're doing.
You mentioned being in talks with IBM, AXA, admiral and Zurich, has this led to any potential partnerships?
While I can't disclose the details of the discussions with them, I can say that the insurance sector is putting a lot of effort into creating an omni-channel, customer-centric, approach. As part of that strategy – and due to ridiculous call centre costs – we can see traction in the future.
A collaboration between a small startup and a huge corporation is never fast and easy, but we're progressing. I estimate you'll start seeing personalised calls from these corporations in the coming months. Our vision is to make personalised, digitally enriched phone calls the new standard.
Which of your fellow SBC cohort most inspired you during the accelerator programme?
The SBC did an amazing job selecting and connecting the teams. We found great friends we could consult, share our pains and successes, and have a beer with after a long week.
However, I really connected with the vHealth team. They are an impressive team, coming from really diverse backgrounds, and they work very hard to achieve their goals. It was inspiring to see the great chemistry between them.
What advice would you give to new startups looking to disrupt the insurance industry?
Go out and talk to people, understand the industry and the pain points from the eyes of business owners. And take some patience with you.
If you would like to find out more about PicUp, please visit its Sønr profile, or you can check out its website.