Customers
Travelers: in-depth intelligence creating new opportunities
With a well established innovation function, Travelers approached Sønr wanting help to identify and assess startups relevant to specific business challenges, opportunities and use cases. Whilst the bulk of this would be insurance-related, it was critical whoever Travelers partnered with were able to scout adjacent industries and technologies also.
After a number of discussions, what attracted Travelers to Sønr was a combination of the data on 3+ million companies at our fingertips coupled with a team of world-class researchers, each of whom have vast industry expertise.

Data-driven insight driving open innovation
Travelers are passionate about open innovation and identifying the right startups to partner with, invest into or acquire. Sønr is fortunate enough to play a key role in helping them do this.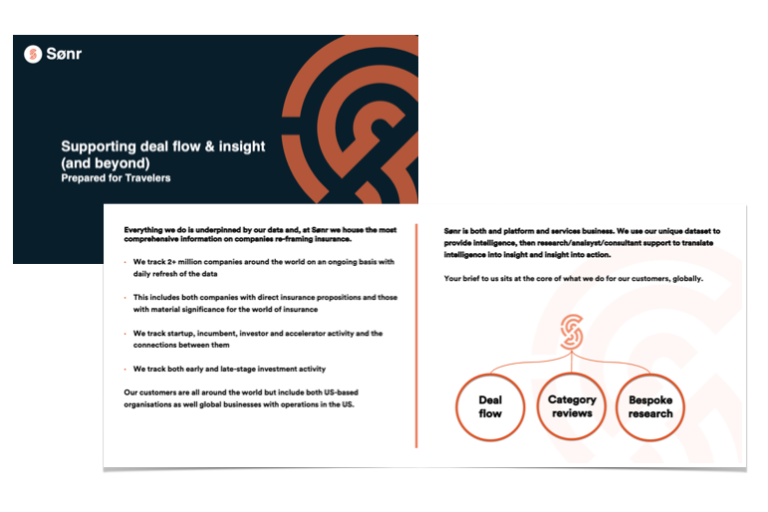 Leveraging Sønr for enhanced innovation scouting
With a well-established innovation function, Travelers sought Sønr for greater and continuous insights into trends and startups within the insurance landscape. 
Travelers recognised Sønr's ability in providing access to data on 3M+ companies, coupled with world-class researchers, as the source of unique insights that are hard to find elsewhere. 
They chose Sønr to bolster their open innovation efforts and identify startups for potential partnerships, investments, or acquisitions.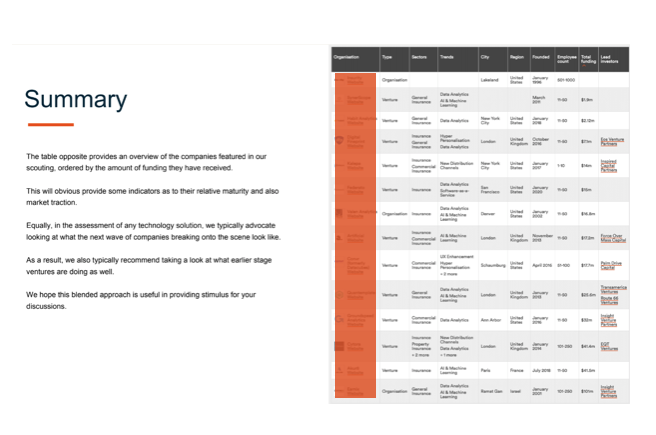 Sønr's delivery of unique data-driven insights for Travelers
Through a combination of Sønr's platform and research team, we've been able to meet Travelers' scouting needs. But we don't do this alone. 
We work closely with the team at Travelers and together we continuously iterate and refine our activity to deliver exceptional results.
The partnership fuels Travelers' open innovation initiatives, helping them identify the right startups for collaboration – whether investment, partnership or acquisition.